Avalanche Forecast By Zone
News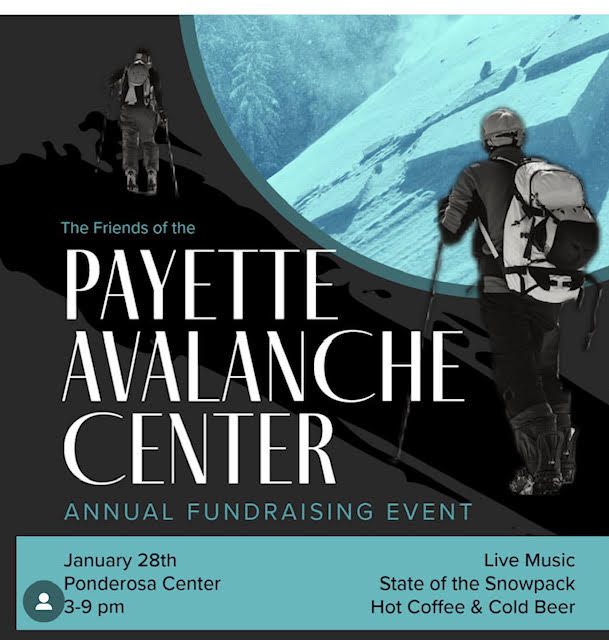 Don't forget we have 2 big events this weekend you don't want to miss:
Friends of the PAC fundraiser during Winter Carnival!
January 28 @ 3:00 pm

 – 

10:00 pm

 

$5
Join us for this season's fundraiser at a NEW location and time! We've reserved the Ponderosa Center Terrace downtown Saturday afternoon and evening, January 28th, the first weekend of Winter Carnival. Tentative plans are to have live music with local bands starting at 4pm with Shawn Tracy until 5:30, then our forecasters providing a season state-of-the-snowpack update, followed by fireworks at 6:00pm, then Jughandle Parade plays from 6:30 to 8:30, and finally West Mountain Takeover plays until 10pm! All this time, we hope to have beer concessionaires providing adult and non-alcoholic beverages, and ongoing beacon and rescue practice opportunities. If you would like to volunteer to help with this big event, contact us please!
IDPR Avalanche Awareness at Mile High Powersports
January 27 @ 6:00 pm

 – 

8:30 pm

 

Free
This is part one of two presentations in our avalanche safety education programs. Attendance to this awareness presentation is required to attend the companion rescue clinic field training the next day, Saturday at the West Face snowmobile lot.
Since avalanches are the number one cause of snowmobile fatalities in the west, the Idaho Department of Parks and Recreation is presenting this free snowmobile based Avalanche Awareness presentation. This presentation is designed to familiarize the winter backcountry enthusiast with hazard recognition and techniques for safe travel in avalanche terrain. In 90 percent of the avalanche accidents, the victim or someone in the victim's party triggers the avalanche. Avalanche conditions are predictable and many accidents can be prevented. If you are planning to ride in avalanche terrain, be sure to check the local avalanche forecast before your trip. We encourage you to take an avalanche awareness course if you ride in avalanche country, and check the United States Forest Service avalanche center forecast website.
2022/2023: PAC will issue forecasts regularly on Tuesdays, Thursdays, and Saturdays. With General Avalanche Information issued Sunday, Monday, Wednesday, and Friday.
* To find out where you can ride your snowmobile on the Payette National Forest, you can download the Winter Travel Map using Avenza on your phone for free. Click here for the winter travel map. You can also stop by the McCall Ranger office on 102 West Lake Street and pick up a free hard copy of the winter travel map. 
We would like to extend a special thank you to our sponsors for the 2022-23 season! Each of the businesses below donated to support PAC operations and we couldn't have been successful without them.
---
SUPPORT THE PAC – Your continued support is essential to keeping the PAC up and running. Please reach out to the Friends of the PAC, or click Donate above, to help us provide you with the info you need to be safe in the mountains.
Submitting observations is another great way to support the PAC. It helps us as well as others see what you may only be seeing. It posts instantly on our website. Every bit of info helps so click on submit an observation and if you submit a photo too that is priceless…Thanks ahead of time!
Photos & Video