Observation Date:
May 1, 2023
Submitted:
May 2, 2023
Zone or Region:
Boulder/Jughandle Area
Activity:
Skiing/Snowboarding
Location:
Jughandle north face and lower bowl behind Louis Lake
Did you trigger any avalanches?
Yes
Was it intentional?
No
Avalanche Type:
Wet Loose
Size:
Size 2: Could bury, injure, or kill a person
Elevation:
8250
Aspect:
NE
Comments:
Our agreed turn around point was when our kick track started producing roller balls. It did, about 50' elevation below the summit. In fact, the roller balls propagated into a 6" deep wet loose slide that ran downslope a few hundred feet. We knew the warm conditions would be unstable, but we had hoped to get up and down the mountain early before the worst of it. Luckily we were able to ski the slide bed safely.
Photo: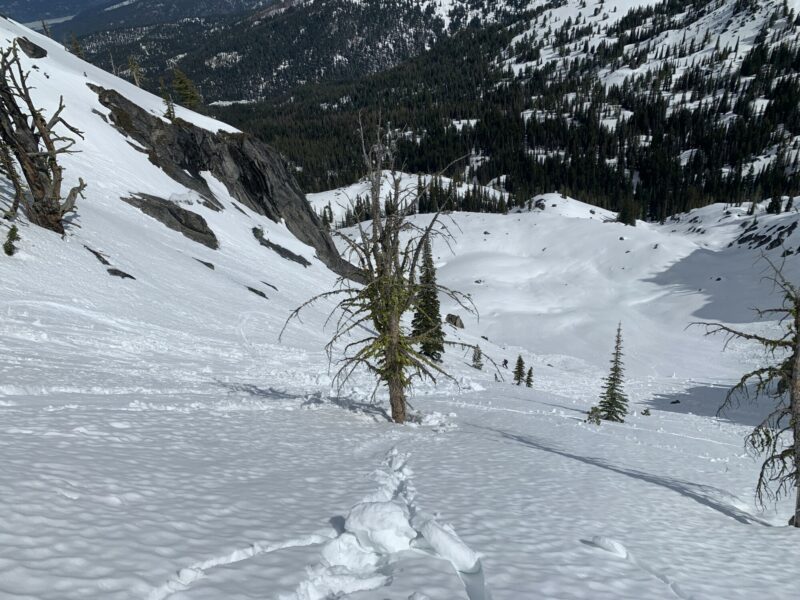 Did you observe any avalanches?
Yes
Avalanche Type:
Wet Loose
Size:
Size 1: Relatively harmless to people
Elevation:
>7000'
Aspect:
NE
Comments:
The weekend had produced a crop of small cornice collapses. We kept our ascent/descent lines a safe distance away from remaining hangfire.
Photo:
None reported
It's still a five mile approach from the Boulder lake road to the upper bowl. The upper bowl approaches an optimum avi angle of 38 degrees. Bt the bowl itself has benign hangfire right now. As does the lower bowl. But I wouldn't go there again with such warm temperatures, or without solid corn snow. My guess is the rest of this week will not be optimum.