Observation Date:
March 18, 2023
Submitted:
March 19, 2023
Zone or Region:
Boulder/Jughandle Area
Activity:
Skiing/Snowboarding
Location:
Jughandle Mountain
Did you observe any avalanches?
Yes
Avalanche Type:
Other
Size:
Size 3: Could bury and destroy a car, damage a truck, destroy a wood frame house, or break a few trees
Elevation:
8300
Aspect:
N
Comments:
Part of the cornice above the north cirque of Jughandle failed naturally and ran several hundred vertical feet (500'?) but the path did not grow wider than the width of the cornice (25') until the debris fanned out at the bottom
Photo: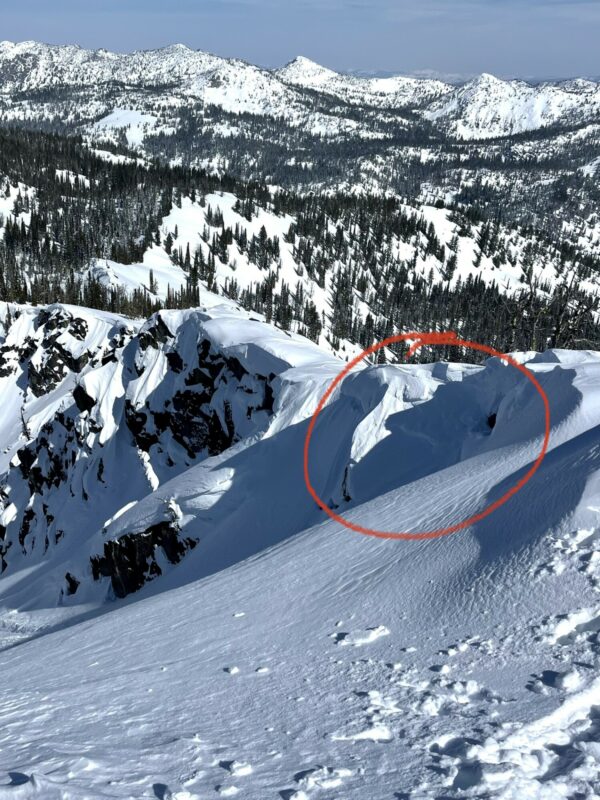 None reported
We observed natural cornice failure in the north cirque of Jug. Uncertain when this might have failed. Other cornices were moderate to large in size. My partner intentionally broke off a chunk of the hang fire with significant resistance but we gave the big ones a wide berth.
We observed widespread wind affect on multiple aspects and elevations, though mostly above tree line, including active transport on ridge tops. Surprising given the firm snow. Wind was light out of the south.