Observation Date:
March 16, 2023
Submitted:
March 16, 2023
Zone or Region:
Warm Lake area
Activity:
Skiing/Snowboarding
Location:
Warm lake summit/landmark road
Did you trigger any avalanches?
Yes
Was it intentional?
No
Avalanche Type:
Hard Slab
Size:
Size 3: Could bury and destroy a car, damage a truck, destroy a wood frame house, or break a few trees
Elevation:
7900 ft
Aspect:
NW
Comments:
Gully feature below 8205'. Approximately 2-10 foot crown depth. 500-600 feet in length. 250 feet in width.
Photo: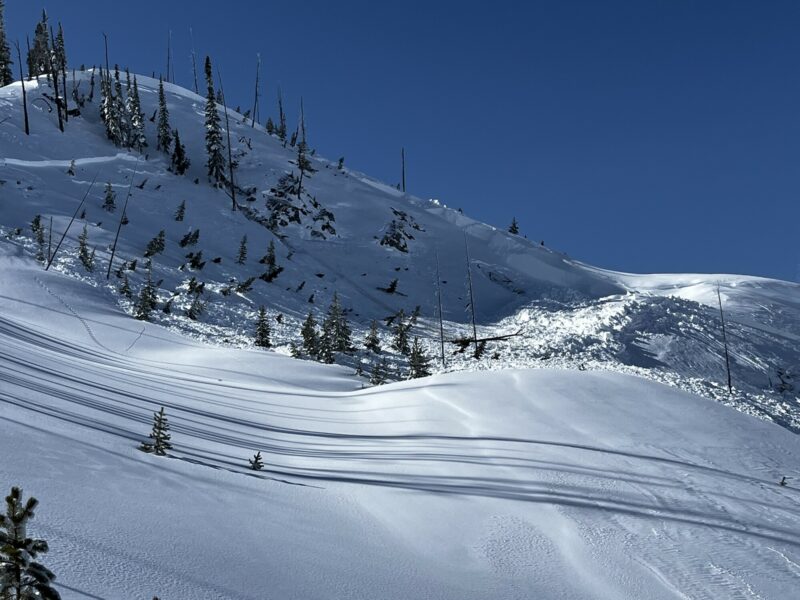 Did you observe any avalanches?
Yes
Avalanche Type:
Soft Slab
Size:
Size 2: Could bury, injure, or kill a person
Elevation:
7800'
Aspect:
NW
Comments:
Observed across valley. Unknown depth And width but multiple natural crowns present from natural cycle earlier in week. Most seemed to run 1400-1600'.
Photo: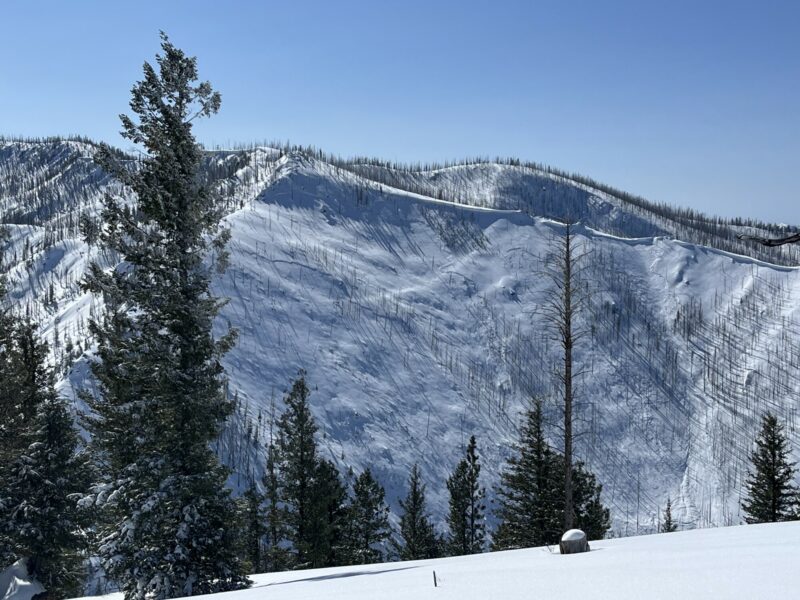 Did you see shooting cracks?
No
Did you experience collapsing or whumpfing?
Yes, Isolated

A group of 4 skiers were ascending a low angle ridgeline above the warm lake summit road. On the way up the ridge, we experienced frequent large collapses. At an elevation of approximately 7700', we felt a large collapse and soon after observed a remotely triggered hard slab avalanche across a gully from where we were traveling. The closest part of the crown was approximately 250' from us to the climbers right and was on a northwest aspect. The crown was just below a rocky ridge and extended around to a heavily corniced adjoining ridgeline.
This is a gully feature where avalanche activity has been observed multiple times in the past. We heard the mountains talking and continued ascending via our chosen ridgeline climbing route to our high point and took our alternate low angle ridge descent route. We chose to avoid avalanche terrain for the rest of the day. This was a good reminder of the variability that can exist just of the outside the perimeters of the forecast area. We also observed large natural avalanches across the valleys at similar elevation (see picture).