Observation Date:
February 2, 2023
Submitted:
February 2, 2023
Zone or Region:
Boulder/Jughandle Area
Activity:
Skiing/Snowboarding
Location:
Jug Mtn Ridgline
Did you observe any avalanches?
Yes
Avalanche Type:
Hard Slab
Size:
Size 2: Could bury, injure, or kill a person
Elevation:
8200
Aspect:
S
Comments:
Seen from a distance. Probably a couple days old. Estimating 1-2' deep, 180' wide and 150' long. Natural trigger.
Photo: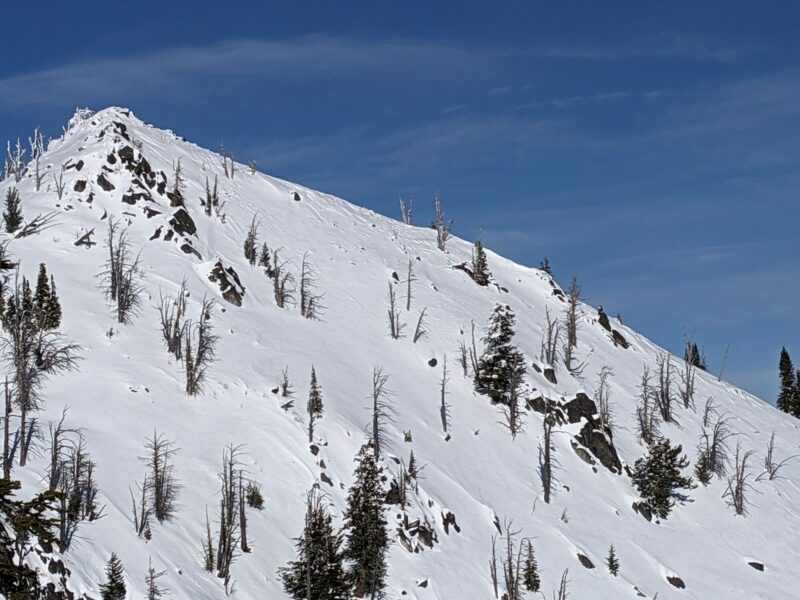 Did you see shooting cracks?
No
Did you experience collapsing or whumpfing?
Yes, Isolated

Shallow, soft wind crust on exposed W face, 0.5-1" deep. Dense 2" wind slab on Ridgeline, isolated 10' diameter collapse where ridge began rolling to the E. Snow pit at 8100, E face, 170 cm depth. Consistent pencil density below wind affected snow other than an Ice layer at 98 cm. Test results were CTN and ECTX. S facing slopes were developing breakable sun crusts.