Observation Date:
December 8, 2022
Submitted:
December 8, 2022
Zone or Region:
West Mountain Area
Activity:
Skiing/Snowboarding
Location:
NE facing slope below Lookout Mtn in the 4 Corners Fire burn.
Did you observe any avalanches?
Yes
Avalanche Type:
Soft Slab
Size:
Size 2: Could bury, injure, or kill a person
Elevation:
7500 feet
Aspect:
NE
Comments:
Above our safe bench location at 7445' the cornice and peak of Lookout Mountain evidenced numerous small avalanches that we think ran during the last storm cycle. That didn't stop a snow biker and sledder from highmarking on the same aspect up to the ridge.
Photo: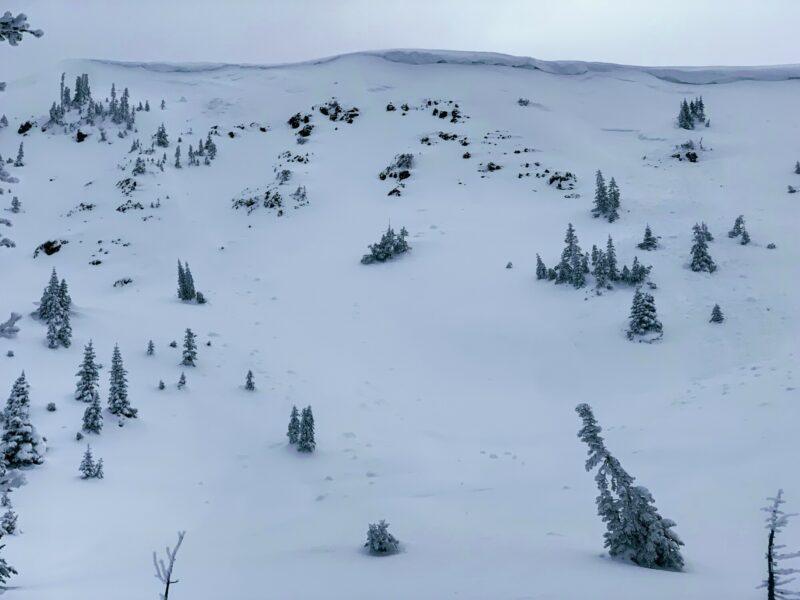 None reported
Pit description: Location N44.524 -116.160 NE facing. Elevation 7425' (2263M) 210cm snowpack height. 15cm ski penetration. 40cm boot penetration. 36 degree slope angle.
Pit results: CT 22@35cm rough sheer. ETC N
Notes: The bottom 60cm of snow was faceted, but showed good signs of healing. Fist penetration. Then 1 or 2 finger until the top 40cm, then gradually back to loose on the top 20cm which provided EXCELLENT skiing. The burn is very spotty, but where the fire was hot, it provides fun tree skiing on moderate slopes. Much evidence of weekend sled traffic.