Observation Date:
March 19, 2022
Submitted:
March 20, 2022
Zone or Region:
Lick Creek Area
Activity:
Snowmobiling/Snowbiking
Location:
Sawtooth Shoulder Paths
Did you observe any avalanches?
Yes
Avalanche Type:
Wet Loose
Size:
Size 2: Could bury, injure, or kill a person
Elevation:
6600'
Aspect:
W
Comments:
Middle path off Sawtooth shoulder, wet loose point release entrained more snow as it traveled down the path, fairly substantial debris pile that fanned out and broke small trees
Photo: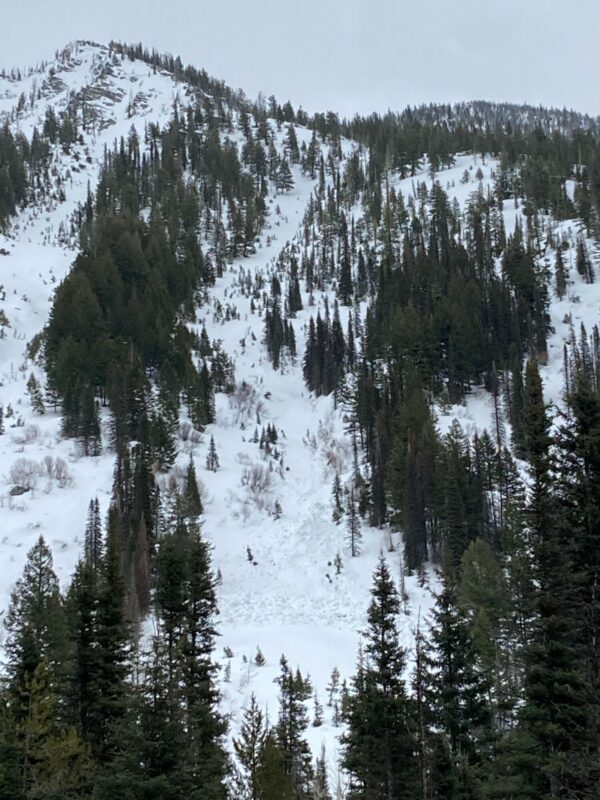 None reported
PAC was traveling through Lick Creek canyon yesterday (Saturday, March 19) and observed this wet loose avalanche that likely occurred the previous day. This appeared to have started as a point release within the avalanche path around 6600' and ran about 500 vertical feet. This avalanche entrained more wet snow as it traveled and accumulated a large debris pile on the apron of the slide path. The debris fanned out on either side of the apron and had small broken trees in it.