Observation Date:
March 14, 2022
Submitted:
March 15, 2022
Zone or Region:
Tamarack Out of Bounds
Activity:
Skiing/Snowboarding
Location:
Lone Tree Ridge
Did you trigger any avalanches?
Yes
Was it intentional?
No
Avalanche Type:
Soft Slab
Size:
Size 2: Could bury, injure, or kill a person
Elevation:
7553
Aspect:
NE
Comments:
West ridge off Lone Tree, 7553', NE aspect, slope angle varied from 29 degrees to 36 degrees, 10" depth, 150' wide, approximately 500' length, 200' fall. SS-ASr-R2-D2-I. This avalanche was remotely triggered from about 40 feet away. The weak layer was 0.5 - 1 mm facets atop the rain crust from early March.
Photo: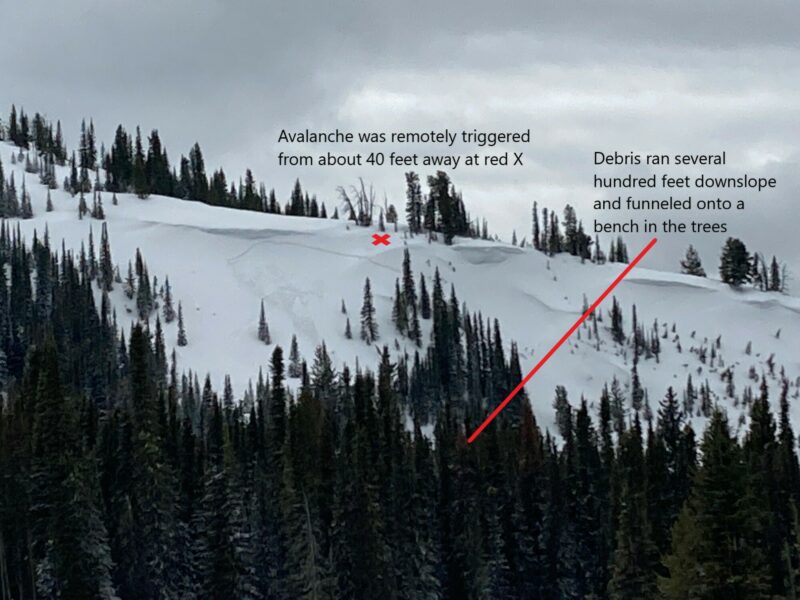 Did you see shooting cracks?
Yes, Isolated
Did you experience collapsing or whumpfing?
Yes, Isolated

PAC toured out of bounds from Tamarack Resort yesterday, Monday, March 14. I observed southern aspects that had 1-2" of new snow sitting atop a very slick crust from the rain event 03/01. There was a myriad of facet and crust combinations within the upper two to three feet of snow on solar aspects. Wind-deposited snow was evident on east through north-facing terrain. In protected, north-facing terrain, dry loose snow was moving easily on the surface. While touring up the west ridge of Lone Tree, I remotely triggered a small avalanche (see info and photos above) from about 40 feet away. Wind-deposited snow in this terrain was deeper, denser, and more reactive. The wind slab failed on facets sitting atop the rain crust. I skied an east/northeast ridgeline on the descent and noticed new snow becoming moist on the east aspect while staying softer on the northeast side of the ridge. A thin, breakable recrystallization crust was noted throughout the tour underneath the new snow and above the rain crust.

The weather was mild, winds were light out of the southwest. Skies remained overcast throughout the day with only a few brief moments of sun poking through the clouds. Temperatures were warm enough to impact new snow.