Observation Date:
March 2, 2022
Submitted:
March 2, 2022
Zone or Region:
Lick Creek Area
Activity:
Skiing/Snowboarding
Location:
Lick Creek Summit terrain
Did you observe any avalanches?
Yes
Avalanche Type:
Other
Size:
Size 2: Could bury, injure, or kill a person
Elevation:
7600
Aspect:
N
Comments:
Payette Powder Guides staff toured around Lick Creek summit today. Many avalanches were observed up and down the drainage. The primary avalanche that I was able to poke and prod occurred in the run Surprise, above the yurts. It appears to have initiated within the past 24 hours, as the crown and debris were both much more crisp and defined than many of the other loose wet avalanches I encountered. As for type, my take is that this initiated in wind-deposited snow (Monday 2/28 deposition) and was triggered by the rain event Tuesday (3/1). It ran initially on some preserved NSFs (new/old or 2/27 interface), and then stepped down to the Valentines (2/14 ) interface. Again this is just my take.
Photo: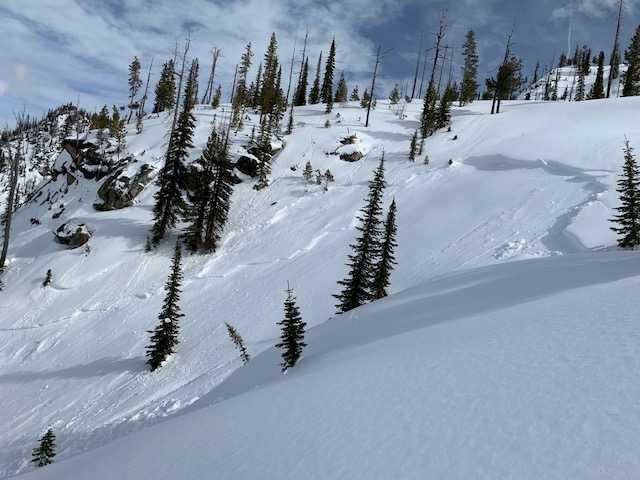 None reported
I saw many other avalanches in the terrain today as well, mostly from afar. Everything I observed was in the D1-D2 range and was contained within the top 45cm of the snowpack. The rain line appeared to be around 7600'. It was 45 degrees F at 7000'.