Observation Date:
February 10, 2022
Submitted:
February 11, 2022
Zone or Region:
Warm Lake area
Activity:
Skiing/Snowboarding
Location:
White Rocks Peak
Did you trigger any avalanches?
Yes
Was it intentional?
No
Avalanche Type:
Wet Loose
Size:
Size 1: Relatively harmless to people
Elevation:
7600'
Aspect:
SE
Comments:
Was able to initiate a loose wet slide in unconsolidated snow in steep easterly/SE terrain. The slide was 10 feet wide and did not widen. I was unable to trigger any more.
Photo: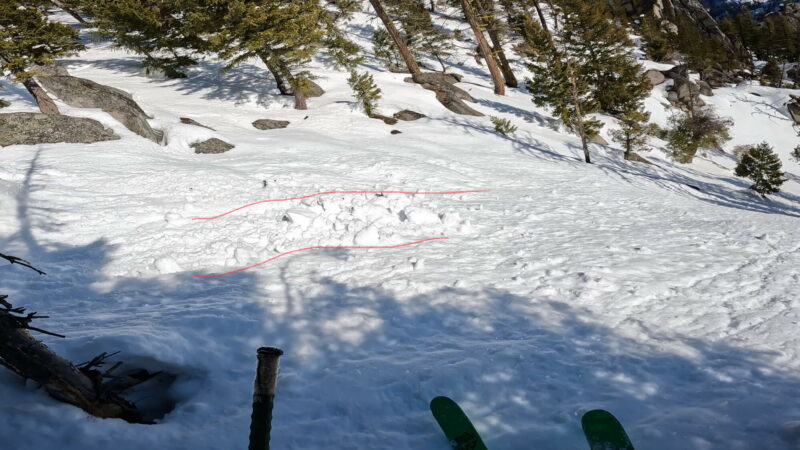 None reported
Low elevation snow was supportive for travel in early morning hours and snow depths remained relatively deep for 4200' on shady aspects. Southern aspects are beginning to burn out. Snow became damp quickly with the warm sun and warm overnight temperatures.
Temperature crust observed as high as 7500' on even due north aspects. Noticed pin rolls on a north aspect from Wednesday Feb 9th warming (photo 1.)
Eastern aspect was unconsolidated mush at 11:30 at 7600'. I was probably 30 minutes late in timing my descent due to the warm overnight temperatures. Curling around to more of a due southern aspect, the snow changed to a more spring-like consolidated snowpack in the avalanche slide path but then turned to wet not-quite-corn on the apron.
Climbing back up, I avoided runout zones of large Avalanche paths, but did not hear or see any more wet-loose slides. The snow became increasingly wet and unsupportive. Descending a north aspect at 2:00, a temperature crust was difficult to manage until lower in elevation when it went from crust to sticky/grabby. Also challenging to ski.
Overall the snow in this area was in a transitional phase going from a winter snowpack to a spring snowpack. Warm temperatures from Wednesday and Thursday 9/10 had left a temperature crust on all aspects. The snow was almost corn in certain locations, but the rapid warmth and lack of freeze/thaw cycle had transitioned it quickly and it became wet and unsupportive. Travel conditions were excellent in the morning but skiing conditions were quite difficult. Pray for some new snow and colder temperatures!