Observation Date:
January 31, 2022
Submitted:
February 1, 2022
Zone or Region:
Big Creek Summit
Activity:
Skiing/Snowboarding
Location:
North Side 1st Knob
Did you trigger any avalanches?
Yes
Was it intentional?
Yes
Avalanche Type:
Soft Slab
Size:
Size 1: Relatively harmless to people
Elevation:
7500
Aspect:
NE
Comments:
Reactive wind slab on NE aspects above 7500'. Depth was 8-12", width varied 50-75', ran 100-200' downslope.
Photo: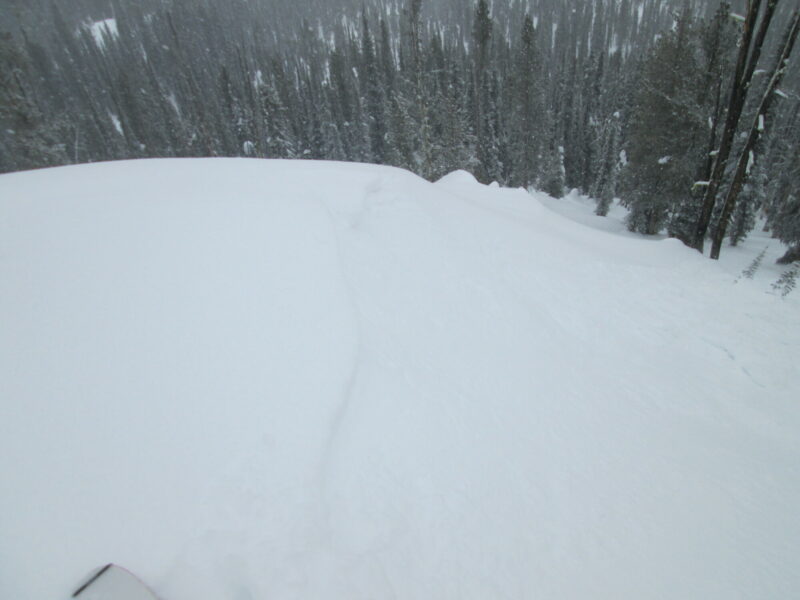 Did you see shooting cracks?
Yes, Isolated
Did you experience collapsing or whumpfing?
No

We intended to ski 35-45 degree terrain that we skied three days prior. We discussed the possibility of wind slab on NE aspects and wanted to observe evidence of wind slab en route to steeper terrain. After gathering information and triggering small avalanches on similar aspects and slope angles that we intended to ski, we changed our plans. 4 out of 7 signs within ALPTRUTH were present. The new snow was reactive and located on specific terrain (the terrain we intended to ski). The size was D1-1.5, the new snow problem was fairly manageable. However, the terrain we wanted to ski was steep high consequence terrain with lots of terrain traps. We elected for terrain under 35 degrees with lower consequences.

Good powder to be had. 2-4" new. Winds light, gusting moderate out of the W/SW. Snowfall was S-1 with heavier squalls of S1 to S2 until the early afternoon. South aspects didn't receive quite enough new snow to make the crust enjoyable.