Observation Date:
January 13, 2022
Submitted:
January 13, 2022
Zone or Region:
Other
Activity:
Skiing/Snowboarding
Location:
Blackmare Drainage
Did you observe any avalanches?
Yes
Avalanche Type:
Soft Slab
Size:
Size 2: Could bury, injure, or kill a person
Elevation:
7900'
Aspect:
NE
Comments:
From Thursday 1/6 or Friday 1/7.
Photo: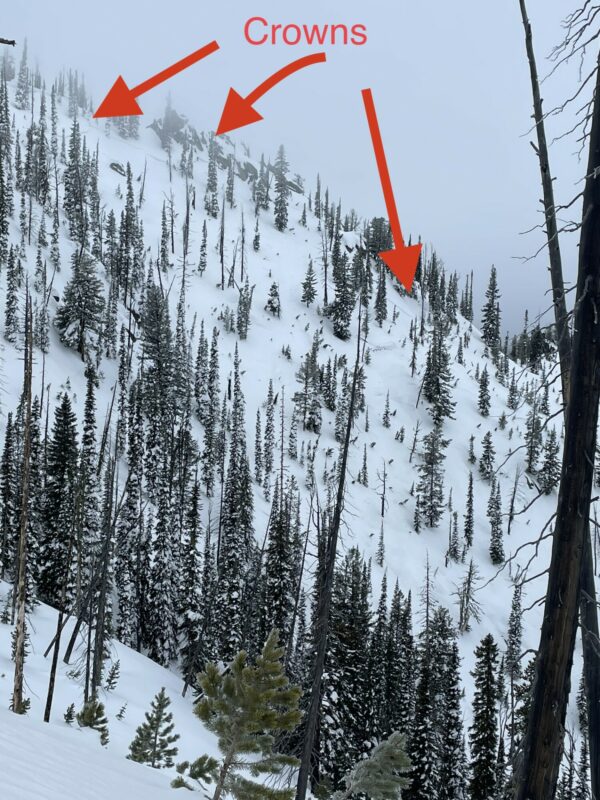 None reported
This is a summary from Jan 8- Jan 13th in primarily the s.f. Blackmare drainage.
We Noted avalanches from the Thursday/Friday storm/avalanche cycle.
Some in steep obvious avalanche paths-photo 1-
Some in less conspicuous terrain-at 7900'. Photo 2.
During Sunday Jan 9 warm up, south facing rock heating produced fresh slides-Photo 3.
We backed off of steeper terrain on Sunday, but as the snow settled, we pushed into steeper and more committing terrain in the middle of the week.
We stayed primarily on north east through south east aspects. West seemed to be wind affected, south had developed a solar crust, and the true north held preserved graupel pools beneath the many cliffs and a wind crust in spots. We trusted the north the least.
We Noted surface hoar development in sheltered locations on north aspects. With the wind swirling it was surprising to still see it on Thursday when we exited.
During Wednesday and Thursdays warmer temperatures, roller balls and pin wheels released. Photo-4 and 5.
Our confidence in the snowpack grew as the week progressed, but we still were mindful of the ever changing conditions-soft snow, wind crust, solar crust, tree bombs, old avalanche debris, and low elevation rain crust.