Observation Date:
January 8, 2022
Submitted:
January 8, 2022
Zone or Region:
Lick Creek Area
Activity:
Skiing/Snowboarding
Location:
Lick Creek Summit
Did you observe any avalanches?
Yes
Avalanche Type:
Size:
Size 1: Relatively harmless to people
Elevation:
6500-7500
Aspect:
NW
Comments:
At least 5 Natural D1 avalanches on a rocky NW aspect near Lick Cr. Summit. The slides were at least a day old, with debris piles covered in fresh snow and crown lines obscured. Estimated slab thickness' of 25-30 cm. Photo is of this complex of slides

1 Natural D1 Avalanche on a small cliff apron NE aspect near Lick Cr. Summit. This slide appeared fresher than the above slides. Seen from across the canyon, Slab thickness estimated at 25-30 cm
Photo: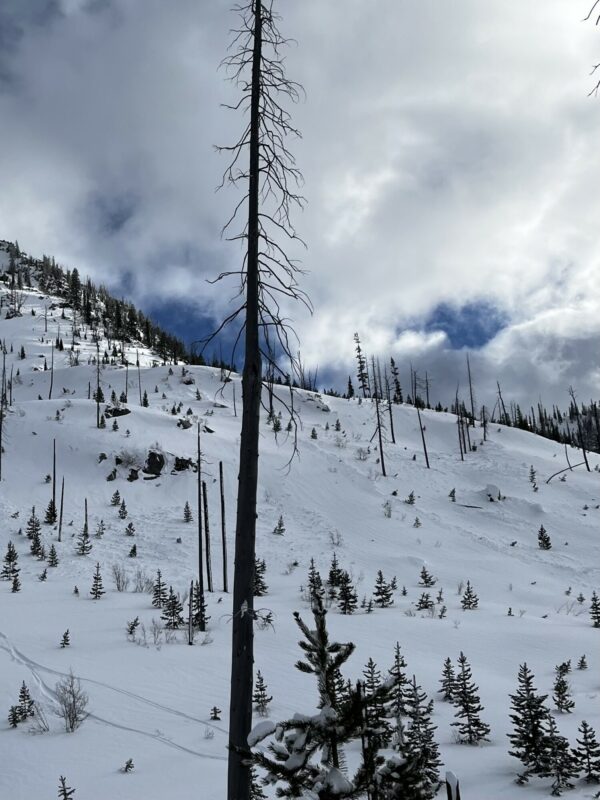 None reported
We dug multiple mitt pits on various aspects and elevations throughout our tour. We found stubborn dense slabs, varying in depth depending on wind effect, all within the new snow from January 3-7
We performed two compression tests in a pit on a Sheltered NE Aspect at 6350 ft. Results were 2x CTH RP at 47 cm. HS of roughly 240 cm.