Observation Date:
January 7, 2022
Submitted:
January 7, 2022
Zone or Region:
Slab Butte/Wong's Bowl Area
Activity:
Snowmobiling/Snowbiking
Location:
SW of Fisher Creek Saddle
Did you observe any avalanches?
Yes
Avalanche Type:
Soft Slab
Size:
Size 2: Could bury, injure, or kill a person
Elevation:
7,000
Aspect:
E
Comments:
Saw a remote triggered avalanche southeast of Fisher Creek Saddle. The slide went off in two stages.. The first was close to 150 yards wide with a foot or so crown. After that slide another slide was triggered above the previous slide unknown how wide the crown was due to poor visibility. The snow traveled a couple hundred yards downslope and almost make it to the fisher creek road. My photos turned out not great but slide crowned above the rock cliffs in the photo.
Photo: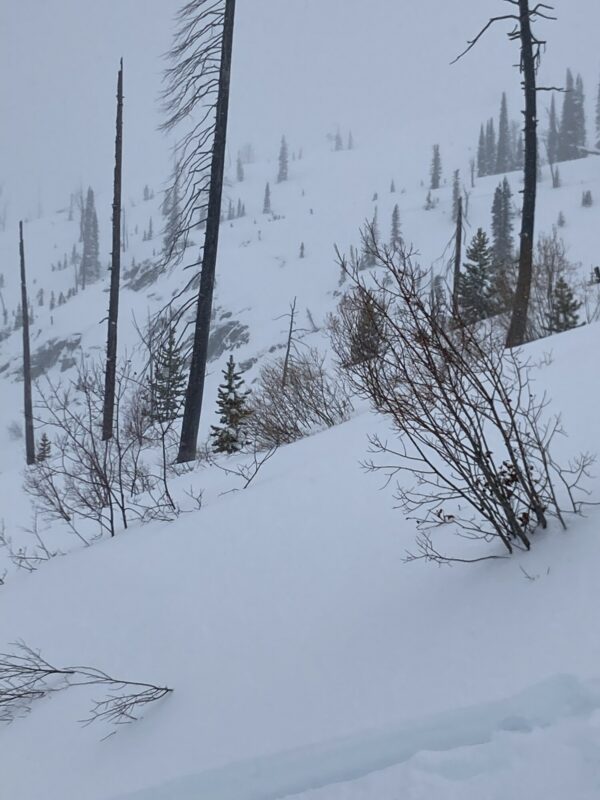 None reported
Slide was on an eastern aspect around 7000 feet, I would guess between 25 and 35 degrees slope. Possibly triggered by snowmobile noise or rapidly changing conditions.. high winds out of the south and new heavy snow accumulation.