Observation Date:
December 25, 2021
Submitted:
December 27, 2021
Zone or Region:
Tamarack Out of Bounds
Activity:
Skiing/Snowboarding
Location:
Tamarack Resort - Wildwood
Did you trigger any avalanches?
Yes
Was it intentional?
No
Avalanche Type:
Soft Slab
Size:
Size 1: Relatively harmless to people
Elevation:
6800
Aspect:
SE
Comments:
Tamarack Resort inbounds, riding the steep southeast face below Wildwood lift, we observed soft slab fracturing and sliding on a very small scale as a result of a ski cut. It was interesting to note the consolidation of the new snow already forming a small soft slab, but showing very poor bonding to the layer of snow below. Some snow shed dry loose after the first rider descended, but a few pockets moved as seen in the photo. The snow did not slide far down the slope, only a foot or two vertically, and did not show propagation in width beyond the areas disturbed by the rider.
Photo: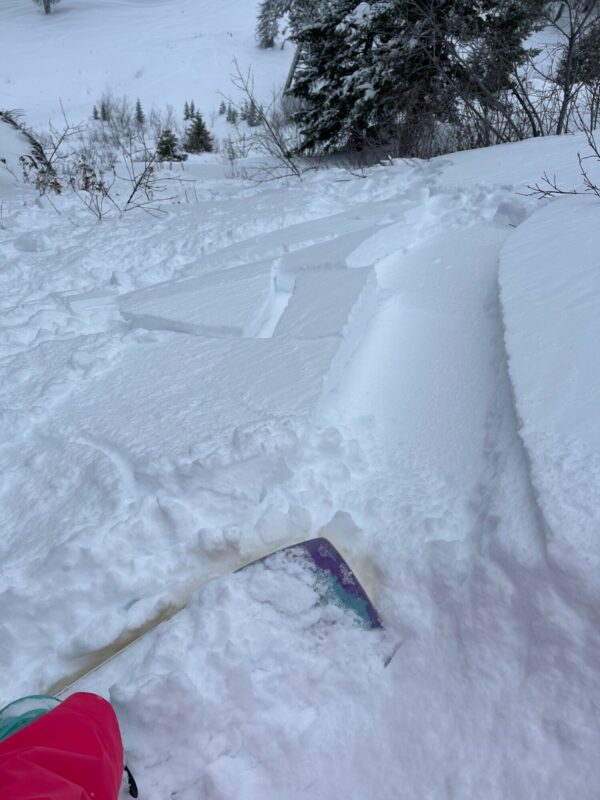 None reported
We did not travel out of bounds that day, and did not observe any other signs of snow instability. We found better snow lower on the mountain than near the summit, where the wind had scoured the ridge.