Observation Date:
March 25, 2021
Submitted:
March 25, 2021
Zone or Region:
Brundage Out of Bounds
Activity:
Skiing/Snowboarding
Location:
Sargents
Did you observe any avalanches?
Yes
Avalanche Type:
Wet Slab
Size:
Size 1: Relatively harmless to people
Elevation:
7400
Aspect:
S
Comments:
I observed a series of wet snow, skier triggered slides that occurred either Tuesday or Wednesday. New snow only on a slick bed surface. There may also have been a natural that released from a steep rocky area.

These were shallow slides that had the potential to knock one off their feet and into a tree. I saw exit tracks from all slides.
Biggest slide- 200 vertical, ran until a decrease in slope angle. 4" deep, mid 30 degree start zone, 75 feet wide. Bounds are marked in red in the foto below.
Photo: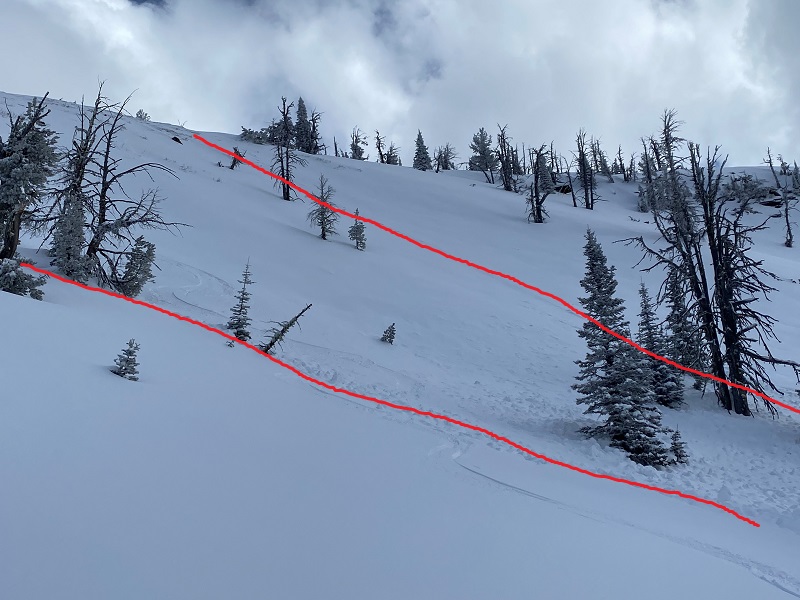 None reported
Basically a typical wet snow scenario and good reminder to avoid steep slopes and damp snow.
New snow was getting damp by late morning on solar aspects.
Please submit Observations if you see anything interesting or trigger an avalanche, thanks!
Toddeo - FPAC Board of Directors