Observation Date:
March 5, 2021
Submitted:
March 5, 2021
Zone or Region:
Hazard Lake Area
Activity:
Snowmobiling/Snowbiking
Location:
North of Grass Mtn Lakes on Hard Peak
Did you observe any avalanches?
Yes
Avalanche Type:
Soft Slab
Size:
Size 2: Could bury, injure, or kill a person
Elevation:
8120 FT
Aspect:
NE
Comments:
We saw a couple natural wind slab avalanches that looked fresh within the last 24 hours. The depth was around 2-3 feet just under the top of the peak on the wind loaded side. We witnessed wind loading occurring at ridge top and sculpting some of the soft snow on northern aspects.
Photo: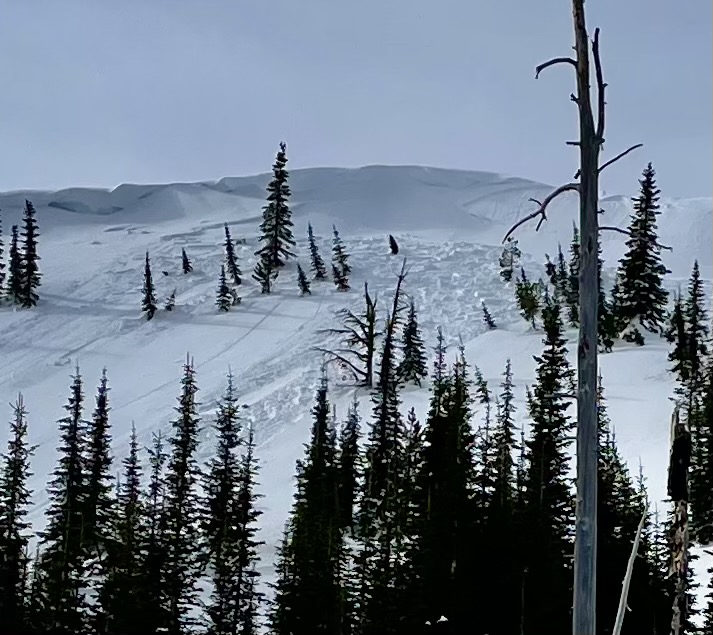 None reported
We were skeptical of the northern, corniced, wind loaded terrain from previous activity, and witnesses current wind loading. We however observed all over the terrain north of Brundage Ski resort, tracks on a lot of steep wind loaded terrain, under cornices---side-hilling...and no evidence of sled, or human triggered avalanches. We did see a couple solar induced wet loose avalanches on East, South, and Southwest aspects, rollerballs, and a tiny slab that looked like it started wet-loose and stepped down on a SW aspect in the Fisher Cr drainage.