Observation Date:
March 5, 2021
Submitted:
March 5, 2021
Zone or Region:
Goose Lake Area
Activity:
Snowmobiling/Snowbiking
Location:
Clow Point
Did you trigger any avalanches?
Yes
Was it intentional?
Yes
Avalanche Type:
Wet Loose
Size:
Size 3: Could bury and destroy a car, damage a truck, destroy a wood frame house, or break a few trees
Elevation:
6000
Aspect:
W
Comments:
Chute just to the south of the chlow point lookout. We shoved some wet snow off the side of the snowmobile road. It formed pinwheels that grew in size very quickly, 6-7 tall rollers would form and then break up. About half way down the face the avalanche began to gain significant amounts of snow. Watched from the top as it ripped out on to the apron and cascaded over a large rock. A few trees were broken in the run out. Debris at the bottom was an estimated 100 feet wide, avalanche ran upwards of 1000 vertical feet.
Photo: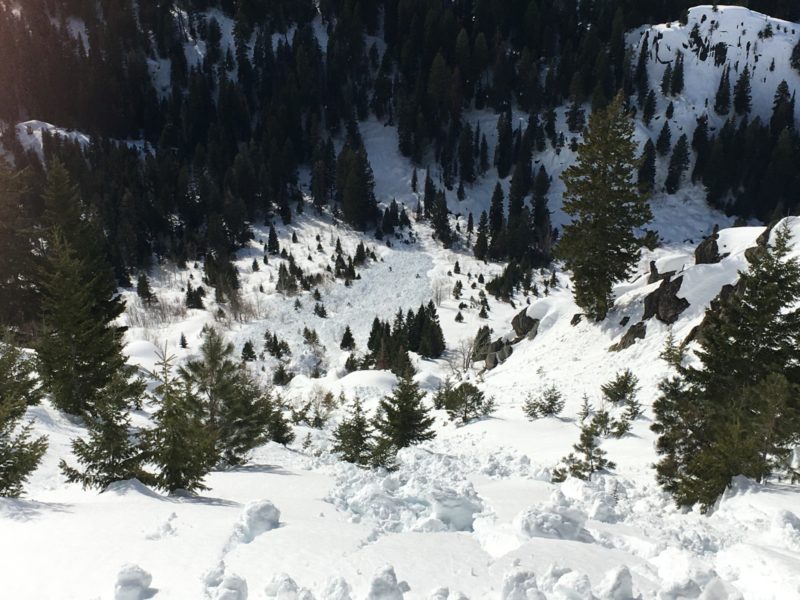 None reported
Slope was warm and in the sun, avalanche occurred around 4pm and was triggered intentionally from the snowmobile road. The size and strength of the avalanche although not surprising still demanded some serious respect. The smaller chute were the avalanche gained a lot of its snow and momentum was ripped down to expose rocks in the path.