Observation Date:
March 1, 2021
Submitted:
March 2, 2021
Zone or Region:
Warm Lake area
Activity:
Skiing/Snowboarding
Location:
S.F. Salmon drainage
Did you observe any avalanches?
Yes
Avalanche Type:
Soft Slab
Size:
Size 2: Could bury, injure, or kill a person
Elevation:
7300
Aspect:
NW
Comments:
Looked to be old, likely from the warming period on February 22nd. It looks to have failed on a deep PWL
Photo: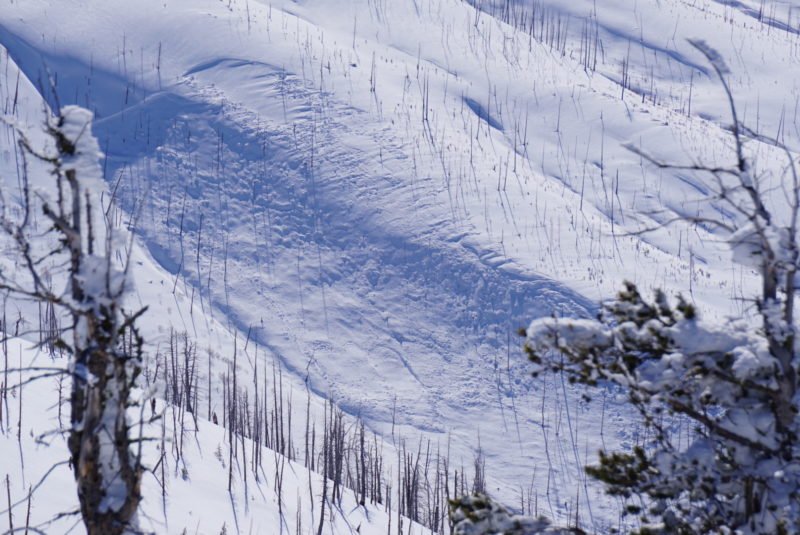 None reported
Snow coverage at 5000' is 1-2 feet of usable snow on a supportive rain crust. The rain crust disappears around 6000'. I did not experience any collapses or whumping during my travels up to 8500'.
Lots of wind pillows and whales along the ridges from the recent storm, but shady protected areas were developing surface hoar again.
I dug a pit at 7500' on a west/northwest aspect on a subtle ridge on a 28 degree slope. HS was 190cms, a Compression test revealed a layer of concern about 55-60 cms down on a near surface facet/surface hoar layer at 23 taps. It broke clean, but my ECT did not initiate propagation or reveal any energy associated with this layer. This area has an overall thinner snowpack and more suspect. I proceeded cautiously uphill avoiding any wind affected terrain and wind slabs.
Skiing was quite good on shady aspects to 6000', but the sun had affected all solar aspects by 2 pm and lots of roller balls and pin wheels were beginning to affect the snow.
In general, the upper 3-4 feet of the snowpack in this area is showing signs of healing, however given the thinner nature of the snowpack and the buried PWLs, I will still be keeping my slope angles low in the near future.
Brian Peters
FPAC Board Member