Observation Date:
February 22, 2021
Submitted:
February 22, 2021
Zone or Region:
Council Mountain Area
Activity:
Skiing/Snowboarding
Location:
Near Granite Peak North of Council MTN
Did you trigger any avalanches?
Yes
Was it intentional?
No
Avalanche Type:
Soft Slab
Size:
Size 2: Could bury, injure, or kill a person
Elevation:
7,000 FT
Aspect:
SE
Comments:
Location: About 2 miles North of Council Mtn in Granite Creek, 7,000' Southeast Aspect Crown: 1-3' deep about 200' across, high 30's slope angle Length – about 600'. Maybe 200' fert…. Snowpack- No signs of instability throughout the day. No nat'ls, no cracks, no whumping. 1st ride after 30 plus years of skiing in the Backcountry Soft slab release (wind deposit) , Cross loaded slope on top of boiler plate – suncrust? Experienced group of 3 skiers skiing one at a time Skier (me) was near the bottom of the slope when it released from above and to skiers right Was carried about 100-150 feet and buried Beacon search started and located me by visual- part of legs above snow Total time buried ~ 3 min Unconscious – came around after 2-3 minutes of fresh air Group self-rescued, took about an hour to find released skis – retention straps were torn our during the ride
Photo: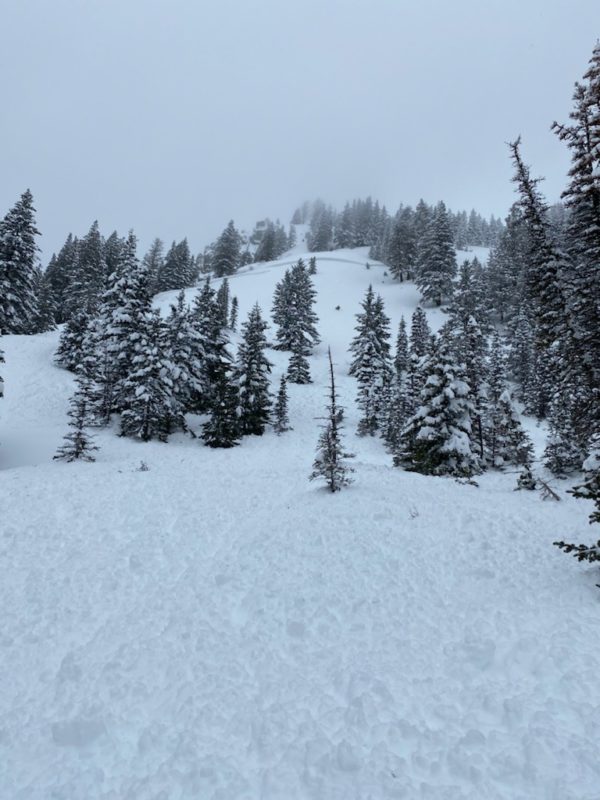 None reported
No signs of previous instabilities.