Observation Date:
February 13, 2021
Submitted:
February 14, 2021
Zone or Region:
Brundage Out of Bounds
Activity:
Skiing/Snowboarding
Location:
Goose Lake Road
Did you trigger any avalanches?
Yes
Was it intentional?
No
Avalanche Type:
Soft Slab
Size:
Size 1: Relatively harmless to people
Elevation:
6250
Aspect:
N
Comments:
Believe we remotely triggered this small avalanche on the steep road cut as we toured from Lower Rodeo within Brundage down onto Goose Lake Road to head out to Sargents. Our skin track was over 50' from the crown on a shallower slope and we did not see the slide until we were returning on the road. It looked to be around 6" deep, likely on the interface between the new snow and surface hoar that formed earlier in the week. The path was 20-30' wide but did not travel into the road.
Photo: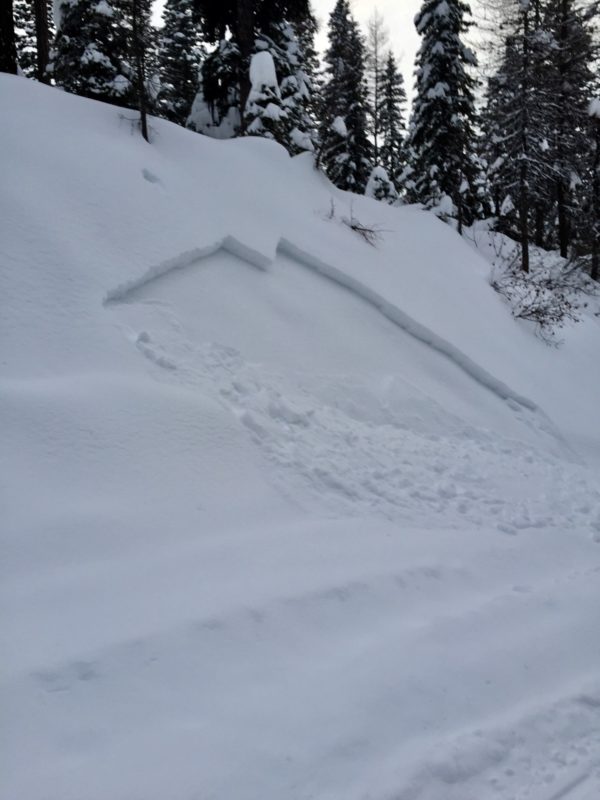 None reported
Even though we didn't observe this slide until we were returning from Sargents, we stayed off and out from under slopes steeper than 30 degrees due to the forecast and our recent observations of the snow, expecting that it would be possible to trigger an avalanche in steeper terrain.