Observation Date:
January 19, 2021
Submitted:
January 21, 2021
Zone or Region:
Hazard Lake Area
Activity:
Skiing/Snowboarding
Location:
Hazard creek
Did you observe any avalanches?
Yes
Avalanche Type:
Wet Loose
Size:
Size 2: Could bury, injure, or kill a person
Elevation:
6000'
Aspect:
N
Comments:
Lots of debris on northern aspects from last weeks storm. Could not see crowns, but debris piles.
Photo: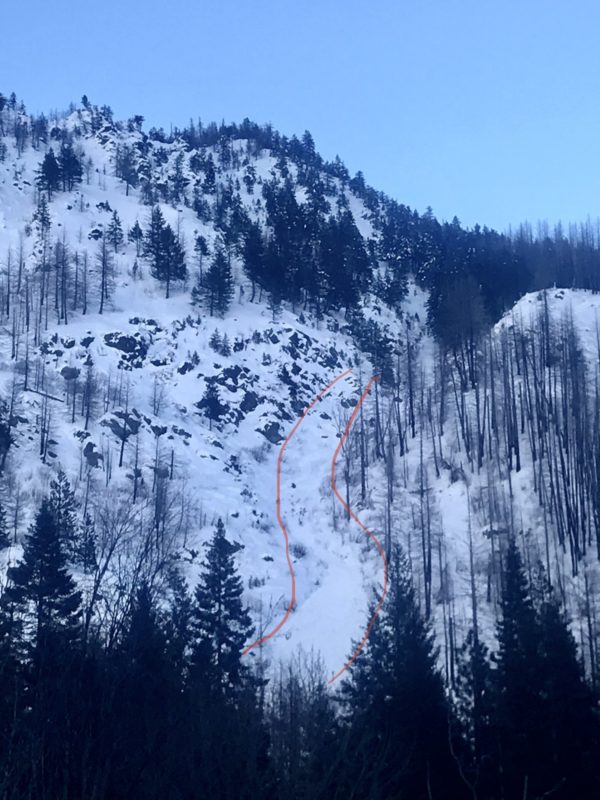 None reported
Traveled exclusively on southern aspects. Found a south facing ridge to ascend on a foot of well consolidated spring-like snow making me wish I had my ski crampons. Thin cover with many shrubs sticking out of snow surface at 5000'. Snow depth and coverage improved around 6000'
Dug a pit on a SE aspect on a 23 degree slope at 6700'. Had a CT 21 and an ECT 24 failing 20 cms down on what appeared to be near surface facets above a thin crust formed prior to last weeks storm. There was little energy associated with these failures. Facets at the base of snowpack showed signs of gaining strength and were wet enough to make a snowball out of. Total HS was 120 cms at this pit location.
Solar aspects at 7500, had little sun affect, and descending at 3:00 pm at 5000', the snow surface had softened providing an almost corn type of surface. Despite the solar warming, the snowpack at 5000' was cohesive and very supportive on the SE to SW aspects.
Lots of debris on the mid-elevation northern aspects from last weeks storm. I continue to travel on ridges and non-avalanche terrain being weary of our shady aspects and the low probability, high consequence snowpack scenario. Keep doing your snow dances!
Brian Peters
FPAC board member