Observation Date:
December 23, 2020
Submitted:
December 23, 2020
Zone or Region:
Goose Lake Area
Activity:
Skiing/Snowboarding
Location:
Granite Mtn East Face just below the lookout.
Did you observe any avalanches?
Yes
Avalanche Type:
Hard Slab
Size:
Size 2: Could bury, injure, or kill a person
Elevation:
Aspect:
W
Comments:
Multiple old crowns from the natural avalanche cycle on Sunday-Monday on the mid pack weak facets on multiple aspects especially where the wind had not covered it up.
Photo: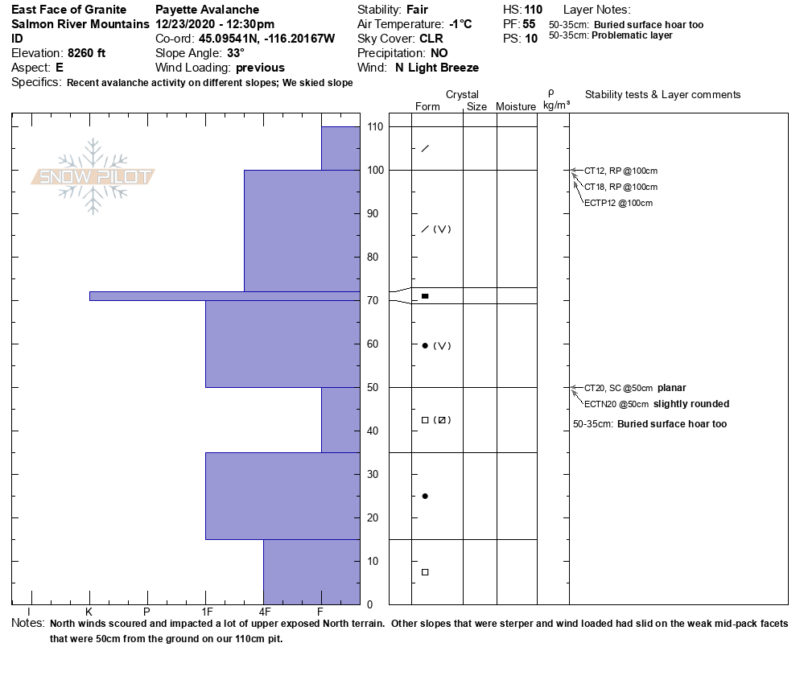 Did you see shooting cracks?
No
Did you experience collapsing or whumpfing?
Yes, Isolated

The snowpack has weak layers that are suspect, but show some bit of rounding which keeps the fractures from propigating now? The overall structure is weak and not super trustworthy.