Observation Date:
December 19, 2020
Submitted:
December 19, 2020
Zone or Region:
Big Creek Summit
Activity:
Skiing/Snowboarding
Location:
Big Creek Summit
Did you trigger any avalanches?
Yes
Was it intentional?
Yes
Avalanche Type:
Soft Slab
Size:
Size 1: Relatively harmless to people
Elevation:
7600 and 7100
Aspect:
N
Comments:
We kicked off a few soft small slabs. We didn't get into the right terrain to trigger anything larger. both on and off ridge lines (see below)
Photo: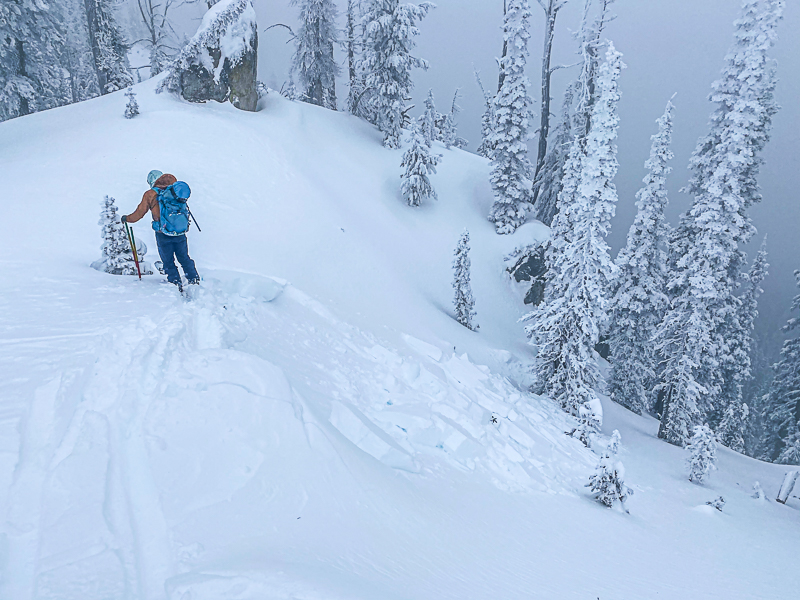 Did you see shooting cracks?
Yes, Isolated
Did you experience collapsing or whumpfing?
Yes, Isolated

new snow overnight, HST-2"

Yesterday's tracks were filled in overnight in exposed areas (photo below)

Snow pit, fist hard facets below 4 finger storm snow. ECTP11 Q2 on SW aspect 7650' failed at base of storm snow at facet interface no suncrust here. Basal facets were damp, 4 finger hardness. the weakest snow is the mid-pack.

Lots of cool rime features today.

Hazard in this area is a tricky call, we did not see as much in your face instability as expected but we also were not willing to get close enough to prod anything without a belay, and ropes just get you into trouble....

We were traveling as per considerable protocols and not sticking our necks out. The lack of many in your face hazards is concerning in regards to the fact that folks may let their guard down. We traveled on all aspects. The mid-pack snow on some of the ridge lines appears to have some more structure that off the ridges in more sheltered areas, this means it might be possible to get suckered into terrain before you realize it is too late.

BOTTOM LINE: My partner today and myself have over 60 years experience traveling in avy terrain. We were both way too spooked to get on any steep or exposed north-facing slopes and kept a safe distance away from any exposed areas.

Toddeo - Friends of the Payette Avalanche Center