Close
Basic Information
Observation Date:
April 14, 2023
Submitted:
April 15, 2023
Observer:
PAC - Kevin Studley
Zone or Region:
Lick Creek Area
Location:
South of 8302
Recent Avalanches?
Yes
Cracking?
None Experienced
Collapsing?
None Experienced

Isolated to surface snow and wet snow near the surface.

Stability Rating:
Good
Confidence in Rating:
High
Stability Trend:
Steady

The morning sun began to melt the upper few inches of the snowpack. Afternoon clouds and cooler temperatures formed a thin, breakable crust on east aspects from 8100'-6800'. This thin crust was on top of 1-3 inches of damp snow sitting atop a stout and supportive melt-freeze crust.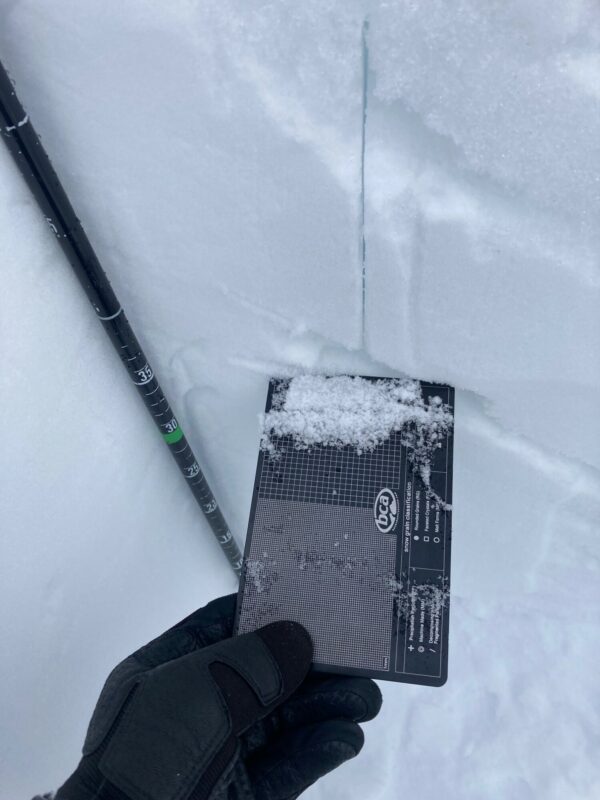 Advanced Information
Cloud Cover:
Partly Cloudy
Temperature:
N/O
Wind:
Light , SW
Clear skies in the AM. Clouds increased throughout the day with partly sunny skies. Light and intermittent snow showers in the PM.
#
Date
Location
Size
Type
Bed Sfc
Depth
Trigger
Photo
1
Past 48 hours
Sawtooth Slide Path
W 7800
D1.5
WL
S-New Snow
U-Unknown
Mostly stable snowpack conditions. Frozen snow surface from 5100'-6100' around 1030 AM. The upper snow surface was becoming soft from 6100'-7500' around 1130 AM. A dry snowpack found 75-90 cm (2.5-3 ft.) down on a N/NW aspect around 7500'. Two weak layers noted 60-80 cm (2-2.5 ft.) down, but no concerning instabilities noted. S/SE aspect around 7900' revealed a saturated snowpack more than a meter (3+ ft.) down that was re-freezing. Consistently 1F or K hardness for the upper 60-90 cm (2-3 ft.). A couple layers of softer, saturated snow grains. These were weak, faceted grains in between melt-freeze crusts that became wet last Sunday-Tuesday. ECTP 26 on wet grains between two older melt-freeze crusts.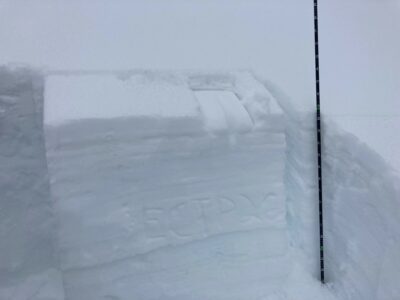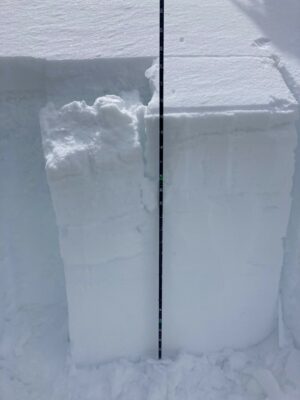 Close