Close
Basic Information
Observation Date:
April 1, 2023 - April 3, 2023
Submitted:
April 4, 2023
Observer:
PAC - Studley (off duty)
Zone or Region:
Warm Lake area
Location:
Warm Lake and Big Creek
Recent Avalanches?
Yes
Cracking?
Isolated
Collapsing?
Isolated

This observation is from Saturday (04/01)- Monday (04/03) around Warm Lake and Big Creek Summit. Heavy snowfall and strong winds had a significant impact on the region Saturday. Storm snow was inverted (or upside down) with heavy, wind-effected snow overlying softer snow. Cracking and whumphfing was observed Saturday and Sunday. The snowpack at Big Creek is very different than Warm Lake area. The Warm Lake area has a notoriously shallow and weaker snowpack with pronounced facets near the base of the snowpack.
Stability Rating:
Fair
Confidence in Rating:
Moderate
Stability Trend:
Improving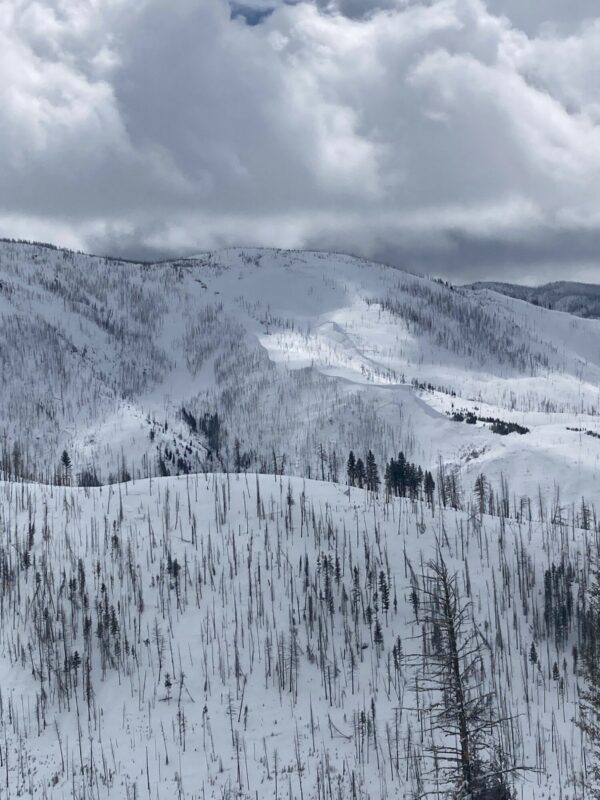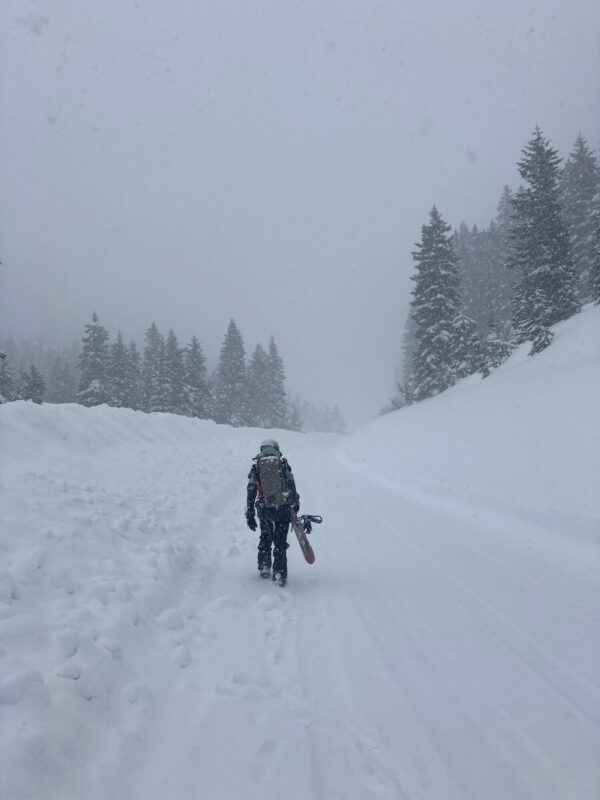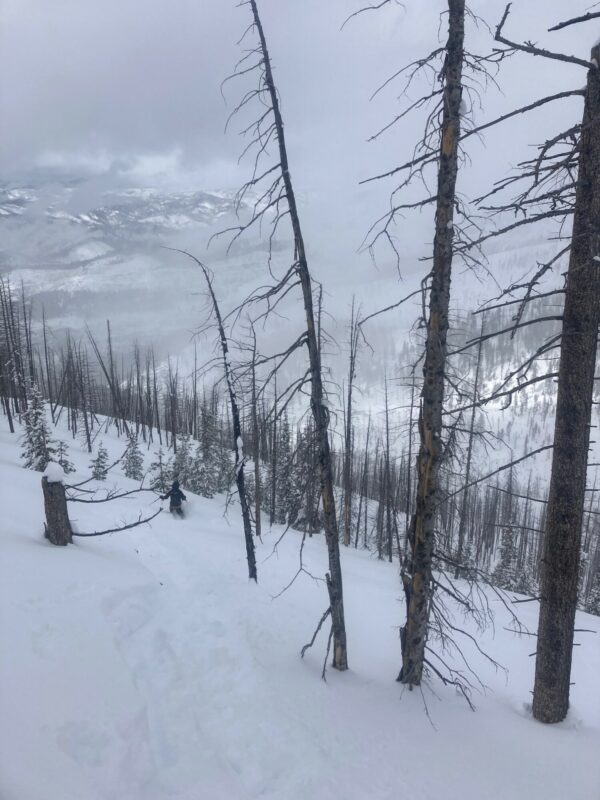 Advanced Information
Cloud Cover:
Mostly Cloudy
Temperature:
Below freezing
Wind:
Moderate , W
Saturday, snowfall rates were S3-4 for 5-6 hours with strong W/SW winds. Clouds broke around 1630 and the sun popped out for a couple hours. Sunday, intermittent snow showers with brief periods of sunshine. Monday, cold north winds. Snowfall rates of S2-3 from 1300-1700.
Two natural avalanches observed on Sunday (04/02) east of Warm Lake. Both were on N/NW aspects between 6600'-7400'. Both appeared large enough to bury or kill a person.
Saturday, 50-60 cm of wind-drifted snow in pockets. Shooting cracks were observed within new storm snow. Sunday, a melt-freeze crust was observed on west aspects from 5200' to 7200'. Inverted storm snow, wind effected. North aspects had 45 cm new snow. Monday, storm snow settled but kept coming.

We dug a snow pit on a NW aspect around 6800'. HS was 185 cm. Upper Snowpack structure was somewhat similar to that of the forecast area around McCall. The lower snowpack had a thick layer of facets about 90 cm from the surface. CT 14 RP on facets in between two melt-freeze crusts. ECTN 17 on this same layer. This was our layer of concern. Although the overall snowpack structure was a concern.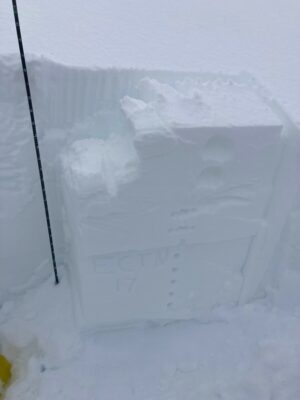 Storm slabs and wind slabs were our primary avalanche concerns over the weekend. We were especially cautious of aspects that had the melt-freeze/facet sandwich.
Given the intensity of the weekend storm and the weak snowpack structure around Warm Lake, the group agreed to avoid slopes over 30 degrees during and after the storm.
Close