Close
Basic Information
Observation Date:
March 11, 2023 - March 11, 2023
Submitted:
March 12, 2023
Observer:
Pro
Zone or Region:
Lick Creek Area
Location:
Lower lick creek
Recent Avalanches?
Yes
Cracking?
None Experienced
Collapsing?
None Experienced

Evidence of widespread natural activity from during Friday 3/10/23 storm
Stability Rating:
Fair
Confidence in Rating:
Moderate
Stability Trend:
Improving

Evidence of a widespread natural avalanche cycle during the storm on Friday. Tiptoed into steeper terrain testing many small roll overs and small wind slabs on a variety of aspects without any movement. Felt comfortable in large avalanche paths that had already slide, but minimized exposure and moved 1 at a time through the terrain. Did not feel any collapsing or have any cracking but still didn't trust the snow and steered clear of large wind pillows and dune features. Cornice development on eastern side of ridges was significant (4+ feet of growth). We gave these new behemoths a wide berth.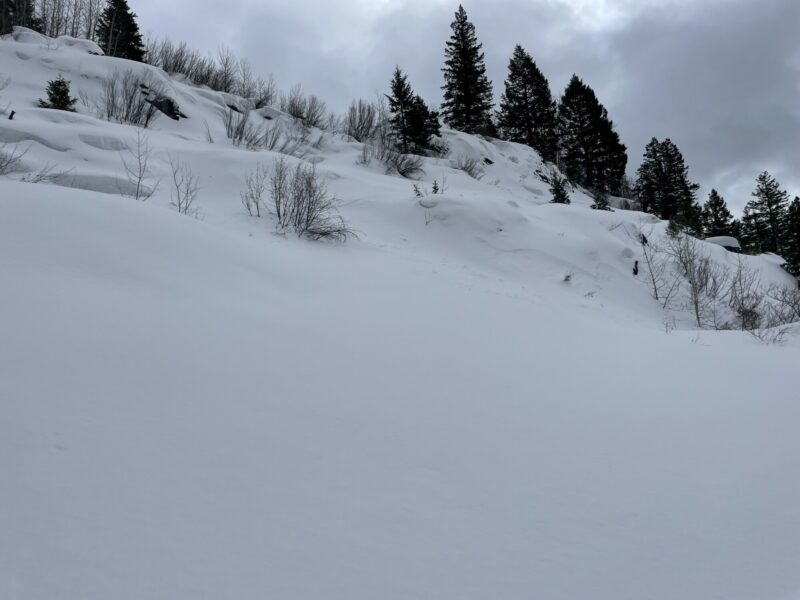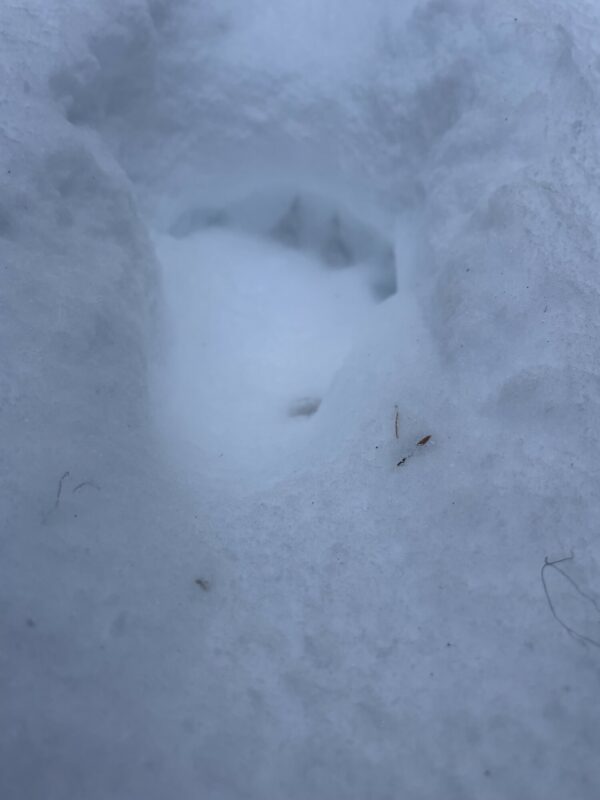 Advanced Information
Cloud Cover:
Mostly Cloudy
Temperature:
25
Wind:
Moderate , SW
Sun breaks here and there allowed for some solar aspects to develop a thin crust.
#
Date
Location
Size
Type
Bed Sfc
Depth
Trigger
Photo
1
Past 24 hours
Large avalanche path
W 7500
D2.5
SS
I-New/Old Interface
1-2 feet
N-Natural

1



2
Past 24 hours
East side
E 8000'
D1
SS
I-New/Old Interface
1 foot
N-Natural

3
Past 24 hours
West facing terrain
W 7500'
D2
SS
I-New/Old Interface
1 foot
N-Natural
Did not dig a pit. Quick hand pits showed new snow sitting on a thin crust (on SW aspect) with moderate force to break. Snow did not have "slabby" feeling in this area.
Starting up our ascent, we had every intention of turning around at the first sign of instability understanding our terrain choice for a considerable day was a bit aggressive. However, we never had any collapsing or cracking. Small test slopes did not produce any results and jumping on wind loaded micro rollover terrain features did not result in any movement of snow. We proceeded with caution and felt better as the mountains were not talking to us. Having seen the widespread natural cycle that "cleaned out" the layer of concern, we felt ok being in areas that had already avalanched during fridays storm, but stayed weary of any areas that had not. Lots of wind whales and wind pillows near the ridges did not break or crack when jumped on. We kept our skiing to old growth trees, or to slide paths that had already run and had set up. Quite frankly, we were surprised at the lack of signs of instabilities in this area given the amount of new snow and wind from Friday. Ski cuts did not produce any results and there was very little to any loose snow sluffing.
Close