Close
Basic Information
Observation Date:
February 11, 2023 - February 12, 2023
Submitted:
February 13, 2023
Observer:
Pro
Zone or Region:
Lick Creek Area
Location:
MIddle Lick Creek
Recent Avalanches?
None Observed
Cracking?
None Experienced
Collapsing?
Isolated

1 minor collapse at 8,000 on a wind drifted ridge. A bit of minor sluffing on slopes above 37 degrees or so. My biggest concern is heating on solar spects.
Stability Rating:
Very Good
Confidence in Rating:
High
Stability Trend:
Steady

Generally stable with the exception of heating on solar aspects. I'm giving solar aspects a wide berth. The lull in activity is a great time to be looking at the snow surface in anticipation of the next storm. I'm giving solar aspects a wide berth when things start heating up.
Advanced Information
Cloud Cover:
Clear
Temperature:
warm!
Wind:
Calm
Warm and sunny
#
Date
Location
Size
Type
Bed Sfc
Depth
Trigger
Photo
1
Older than a week
West facing 8,200'
W 8,200
D2
L
S-New Snow
Unknown
N-Natural
This weekend my primary concern was heating. Aspects with any south were either damp or crusted depending on time of day. On Sunday we planned to ski west aspects with an early exit before heating. We exited at about 1.30 pm after observing some large roller balls starting at 7,500' feet plus in elevation. See photo below. I didn't feel the need to stick around and subject myself to additional objective hazards.

High west aspects were wind damaged in places.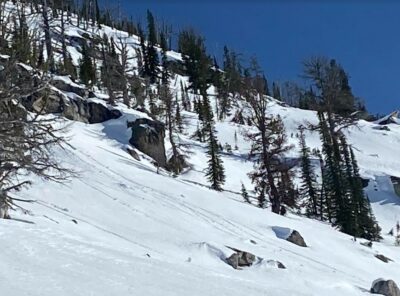 Problem
Location
Distribution
Sensitivity
Size
Wet Slab

Isolated

Specific

Widespread

Unreactive

Stubborn

Reactive

Touchy

D1

D1.5

D2

D2.5

D3

D3.5

D4

D4.5

D5
At this point for skiers problems limited to south aspects. I think if I wasn't a gaper sledder who sticks to roads, I would be concerned about steep norths. The most recent activity is less than a week out.
Stayed of south aspects (bottom 180 degrees of the compass.
Close