Close
Basic Information
Observation Date:
February 10, 2023 - February 11, 2023
Submitted:
February 12, 2023
Observer:
Pro
Zone or Region:
Lick Creek Area
Location:
Upper lick creek
Recent Avalanches?
Yes
Cracking?
None Experienced
Collapsing?
None Experienced

Unstable snow mostly confined to southern aspects
Stability Rating:
Very Good
Confidence in Rating:
High
Stability Trend:
Steady

Spent 2 days poking around in upper lick creek. Found a stable and supportive snowpack with instabilities confined to afternoon heating in sunny aspects. Felt comfortable traveling in steep avalanche terrain with a cautious eye on sunny aspects for roller balls and wet slides.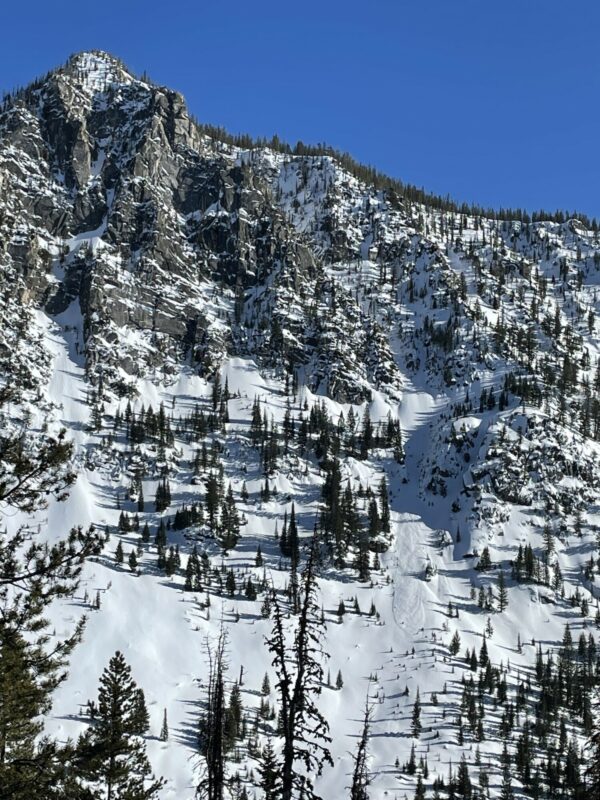 Advanced Information
Cloud Cover:
Clear
Temperature:
30
Wind:
Calm , W
Cool clear nights and warm sunny days. Afternoon heating with a higher sun angle allowed for solar aspects to get damp and produce a few minor wet slides and cinnamon rolls.
#
Date
Location
Size
Type
Bed Sfc
Depth
Trigger
Photo
1
Within the past week
Due north at bottom of cliffs
N 7000'
D1
SS
I-New/Old Interface
1 foot
N-Natural

2
Past 48 hours
Steep south facing terrain
S 7500'
D1
WS
N-Natural
Did not see much natural activity nor did we have any human caused activity.
Did not dig a pit, but had good confidence in snowpack. We traveled on east and west aspects finding north shade within the east and west (soft/dry snow). Main concerns were with afternoon heating of solar aspects, thin rocky areas on north facing terrain (possible leftover PWL) and any freshly formed wind slabs-which we did not see in our travels. Did not have loose snow concerns either in the terrain we traveled. Quite frankly, after "getting a feel for the snow" and "easing into terrain" we felt quite good about the traveling in avalanche terrain. Not without any concerns, but not "on edge" and kept a close eye on south facing rocks heating and steering clear of thinner rocky areas in shady aspects.
We steered clear of due south, due north, and any wind textured terrain but maximized soft snow conditions in shady aspects.
Close