Close
Basic Information
Observation Date:
January 25, 2023 - January 25, 2023
Submitted:
January 25, 2023
Observer:
Pro
Zone or Region:
Lick Creek Area
Location:
West Facing Lower Lick Creek
Recent Avalanches?
Yes
Cracking?
Isolated
Collapsing?
None Experienced

Loose snow sluffs, one ran about 1,000 vertical feet and buried our skin track, faster and further than expected. Sluffing did not entrain additional snow outside of the flow path. Cracking was limited to along the ridgetop at 8,000'
Stability Rating:
Good
Confidence in Rating:
Moderate
Stability Trend:
Steady

Snow pack is generally stable but it's still possible to get enough snow moving via surface snow sloughing to get one in trouble (see photos below). Still skiing a bit cautiously in avalanche path start zones, mostly in the moderate hazard type of program.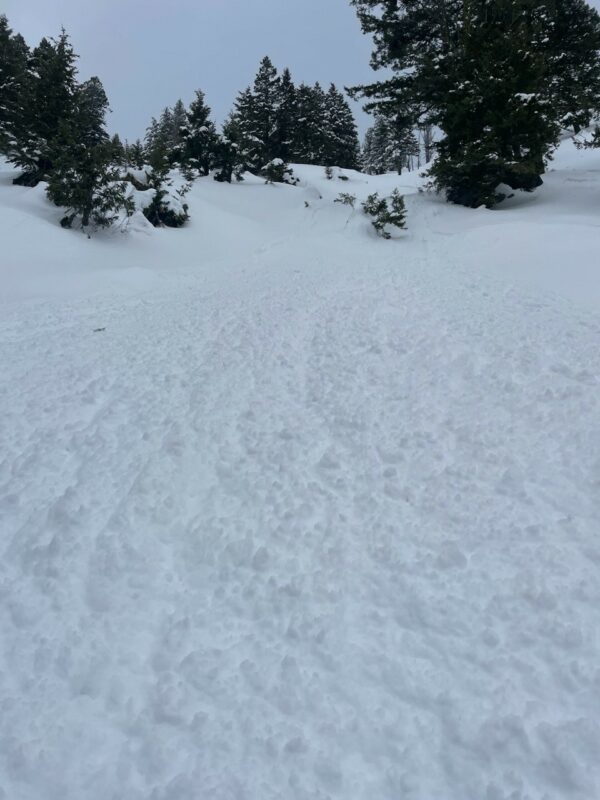 Advanced Information
Cloud Cover:
Overcast
Wind:
Moderate , N
We were mostly out of the wind with the exception of the ridge top at 8,000'. We did talk to a party on the east facing side of the drainage that said the north winds made it very difficult to be on northerly aspects. Some blowing snow at times. A bit of wind transported snow in our skin track on our 2nd lap, minor. Light snow on and off during the day.
#
Date
Location
Size
Type
Bed Sfc
Depth
Trigger
Photo
1
Today
Lick Creek West facing 7,800' Elevation
W 7,800'
D1.5
L
S-New Snow
6"
AS-Skier
u-Unintentional
We had to move out of the way of sloughing snow at times today.
Some solar aspects have a crust below the surface.
Problem
Location
Distribution
Sensitivity
Size
Dry Loose

Isolated

Specific

Widespread

Unreactive

Stubborn

Reactive

Touchy

D1

D1.5

D2

D2.5

D3

D3.5

D4

D4.5

D5
I also imagine it would be possible to trigger a wind slab in the upper elevations today. We avoided wind loaded terrain so this is just an educated guess based on poking a few drifted areas..
Although we were in the start zones of avalanche paths today, I do not think we have "greenlight" conditions, still traveling with a bit of caution.
Close