Close
Basic Information
Observation Date:
January 10, 2023
Submitted:
January 10, 2023
Observer:
Pro
Zone or Region:
West Mountain Area
Location:
West Mt. East Facing
Recent Avalanches?
None Observed
Cracking?
Isolated
Collapsing?
Isolated

A lot of "soft" cracking limited to the upper 6-8". 1 shooting crack while skiing that I just caught in my periphery, I did not stop to investigate but I guess 30 feet or so, of note it was not in a wind affected area. 1 moderate collapse while walking the ridge.
Stability Rating:
Fair
Confidence in Rating:
Moderate
Stability Trend:
Steady

Lot's of wind affected snow in exposed areas (see photo). Wind slabs are also present in exposed areas generally shallow 6-8" deep with some cracking. The primary upper snowpack weakness is at the base of Sunday's snow which was mostly graupel in this area. My primary concern is the potential for wind slabs in exposed and loaded areas.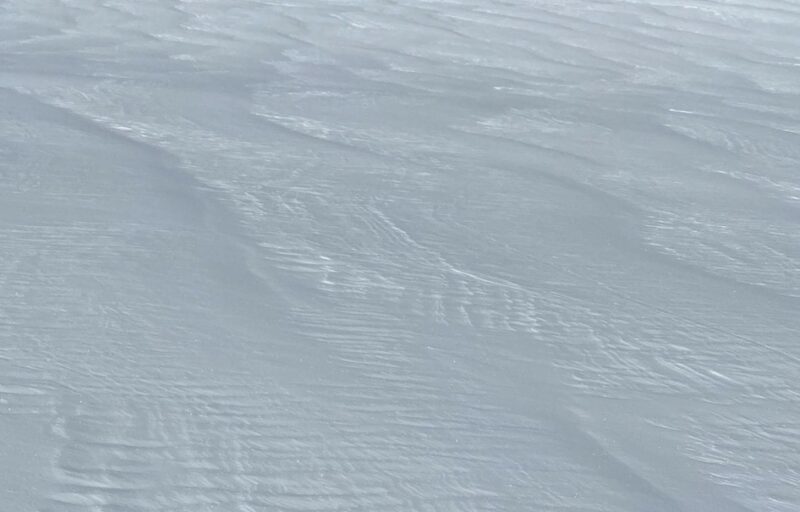 Advanced Information
Cloud Cover:
Overcast
Wind:
Moderate , S
Almost felt like a slight east component to the wind, i don't like east winds, they load snow in areas we are not used to. Snow was blowing today, some reloading of my skin track each run in exposed areas.
A few quick hand/pole ECTs today (see photo). All propagated at base of Sunday's snow 6-8" deep. Ranged from ECTP 1-11, glove is sitting on failure plane. Please note they were conducted by hand and may not be exact scores. Pole columns also sheared easy on this layer which was the Sunday morning's snow surface and may be faceted. This area contains a lot of graupel from Sunday afternoon, and it is likely pooled in areas. In general there is 6-8" From Sunday and Monday's storms sitting on this weak layer which may contain some surface facets.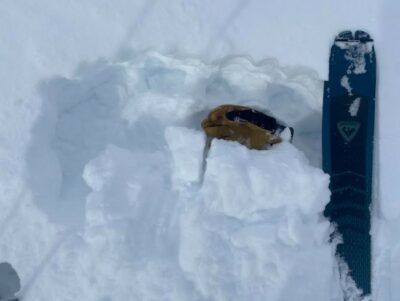 Problem
Location
Distribution
Sensitivity
Size
Wind Slab

Isolated

Specific

Widespread

Unreactive

Stubborn

Reactive

Touchy

D1

D1.5

D2

D2.5

D3

D3.5

D4

D4.5

D5
Not a major threat due to the shallow nature in the ares I traveled today.
Skied mostly low angle terrain. Due to the wind slabs, i would be hesitant to travel in upper elevation steep, wind loaded areas right now and if I was in the alpine I may be traveling as per considerable protocols due to a potential (this is speculation...) for wind slabs and Moderate travel protocols everywhere else.
Close