Close
Basic Information
Observation Date:
December 20, 2022 - December 20, 2022
Submitted:
December 20, 2022
Observer:
Pro
Zone or Region:
Lick Creek Area
Location:
Sawtooth
Recent Avalanches?
None Observed
Cracking?
Isolated
Collapsing?
None Experienced

Isolated soft cracking, none shooting. In upper storm snow. We stopped at 7,600 just as things were getting more slabby to avoid instability and wind. One very small slab release of new snow on the downhill side of a boulder, new snow only. Sluffs entrained some old snow in steep areas (see photo)
Stability Rating:
Poor
Confidence in Rating:
Moderate
Stability Trend:
Worsening

A tricky day. Leaving the sleds, I was expecting moderate hazard. As the wind/snow picked up we started traveling more as a considerable hazard. The actual conditions after the initial storm instabilities settled put it a bit somewhere in between the two in sheltered areas. I would expect significantly more hazard in exposed wind-loaded areas and the alpine which we avoided. This is based on observing some pillows at our turn around point (7,600'). With snow in the forecast, I will be traveling as per considerable hazard tomorrow.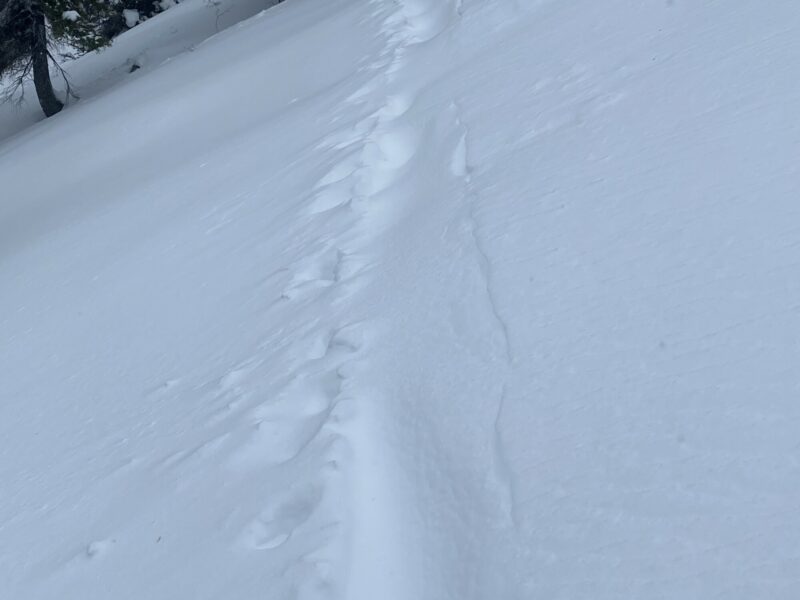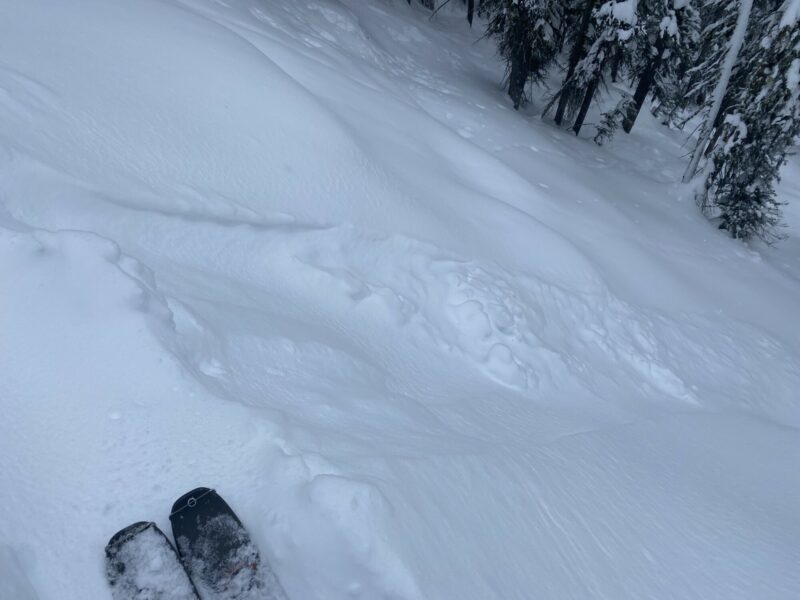 Advanced Information
Cloud Cover:
Obscured
Temperature:
Decreasing during the day
Wind:
Moderate
Decreasing temps during the day, the ride out was a lot colder than the ride in this morning. Snow up to an inch/hr (S2) during the day. HST approximately 5-6" above 7,000'. Wind was moving snow at all elevations. The skintrack was blown in on our 2nd lap in all exposed areas (see photo).
Storm snow had a slightly inverted feel over the old faceted surface snow. Dense, I would guess about 10%. Ski penetration while breaking was about a foot.
I was only able to isolate the new snow in one of at least a dozen pole columns. All but one pole isolated ECTs failed during isolation. (ECTPV). While the depth of the new snow is only 5" or so, these are red flags considering more is expected.

Problem
Location
Distribution
Sensitivity
Size
Wind Slab

Unreactive

Stubborn

Reactive

Touchy

D1

D1.5

D2

D2.5

D3

D3.5

D4

D4.5

D5

Storm Slab

D1

D1.5

D2

D2.5

D3

D3.5

D4

D4.5

D5

Deep Persistent Slab

Isolated

Specific

Widespread

Unreactive

Stubborn

Reactive

Touchy

D1

D1.5

D2

D2.5

D3

D3.5

D4

D4.5

D5
We skied one at a time and avoided big open areas at mid and high elevations.
Close