Close
Basic Information
Observation Date:
December 19, 2022
Submitted:
December 20, 2022
Observer:
PAC - George Halcom
Zone or Region:
Goose Lake Area
Location:
Just North of Granite Weather Station
Recent Avalanches?
None Observed
Cracking?
None Experienced
Collapsing?
None Experienced

Currently, the upper foot has a few weak layers and crusts and is loose and unconsolidated which is enough to warrant a loose snow avalanche problem.
Stability Rating:
Good
Confidence in Rating:
Moderate
Stability Trend:
Worsening

The lower portion of our snowpack has gained a lot of strength in the last 2 weeks. Weak layers that formed in October and November are not showing up in stability tests. The upper foot is loose and un-consolidated, comprised of a couple of crusts and buried surface hoar and near surface facets. Tuesday evening we will begin the test of how well the upper foot of snow will support over a foot of new snow and strong winds.

Expect the avalanche danger to rise by Wednesday as wind slabs will likely take over as our primary concern and with the buried weak layers currently, we will likely also see sensitive storm slabs forming in areas that are sheltered from the wind.

Check your slope angle regularly, and use caution on and near slopes that are steeper than 30 degrees or connected to slopes that are steeper than 30 degrees. Red flags like recent avalanches, cracking, or whumphing noises in the snow are going to be the first signs that the snow is dangerous...find another, lower-angle slope to play on.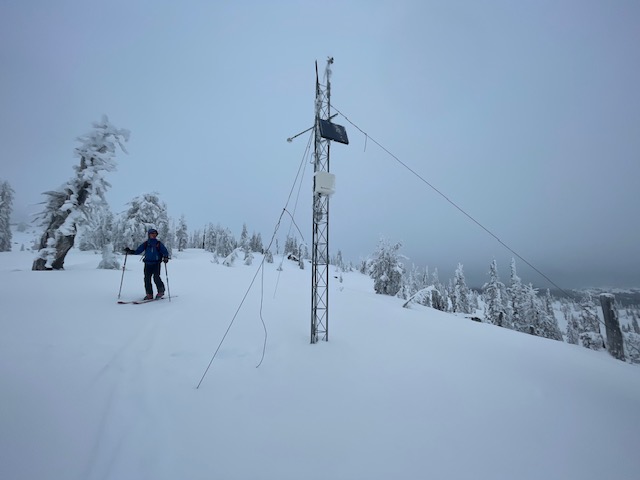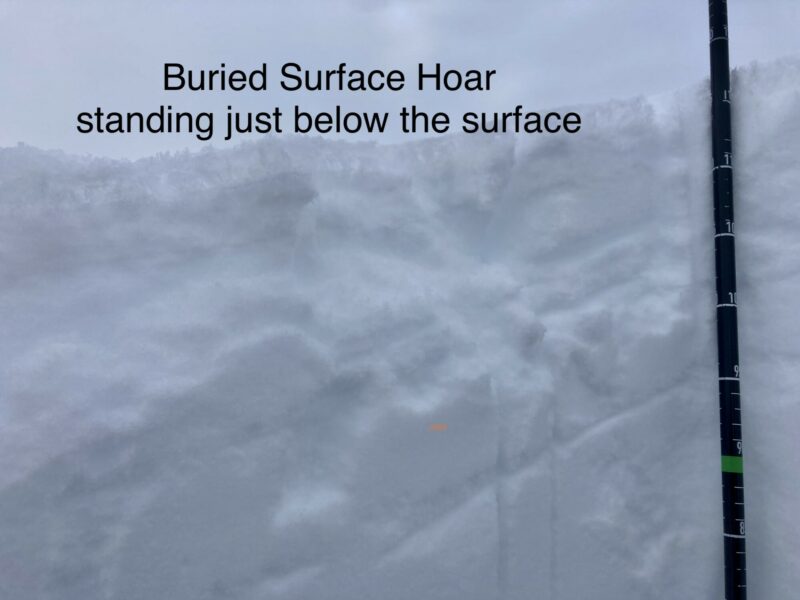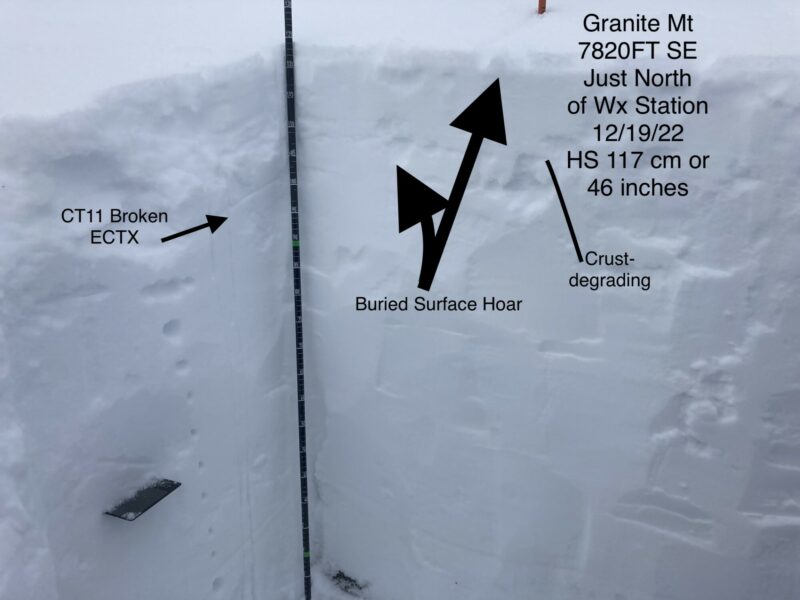 Advanced Information
Cloud Cover:
Overcast
Wind:
Light , SE
Above 8,000 feet the mountains were socked in and not visible. Light to calm winds out of the SSE. An inch of very light snow covering barely buried surface hoar.
The only failure was about a foot down from the surface on fragments of buried surface hoar particles: CT 11 was Broken and did not propagate in an extended column test (ECTX).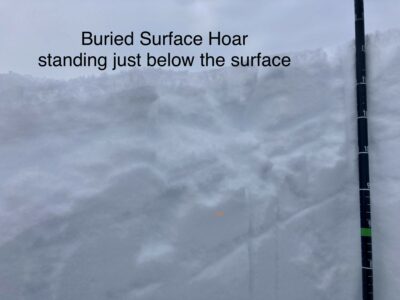 Loose snow avalanches up to a foot deep or more are possible on slopes steeper than 35 degrees
We recognized the potential danger of loose snow avalanches or sluffing in steep and confined terrain, but did not experience any on the slopes we skied.
Close