Close
Basic Information
Observation Date:
November 22, 2022 - November 22, 2022
Submitted:
November 22, 2022
Observer:
Pro
Zone or Region:
Big Creek Summit
Location:
Big creek summit
Recent Avalanches?
None Observed
Cracking?
None Experienced
Collapsing?
None Experienced
Stability Rating:
Good
Confidence in Rating:
Moderate
Stability Trend:
Worsening

Thin and weakening 1-2 foot snowpack. The snow surface is capped with a solar crust on sunny aspects and widespread surface hoar/near surface facets on anything shady. Problematic rain crust in upper half. Lots of loosely buried obstacles. Snow was punchy and loosing strength.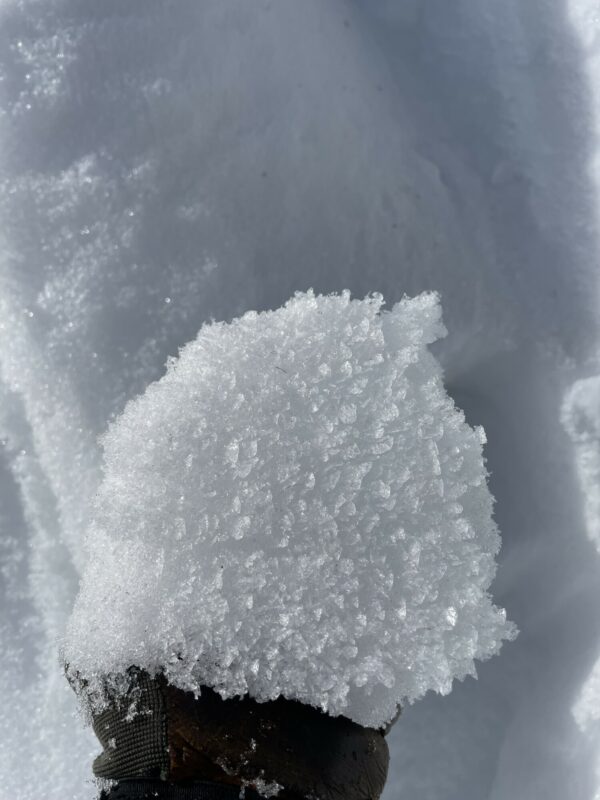 Advanced Information
Cloud Cover:
Mostly Sunny
Temperature:
28
Wind:
Calm , S
Warmer day in the mountains than the past week with snow surfaces dampening in the afternoon on sunny aspects but still cool enough to preserve well developed surface hoar in the shade.
On a north aspect at 7200', I found 80 cms (30 inches) of weak sugary snow with a rain crust at 55 cms. Snow was weakening significantly in this location from the now 2 week dry spell. I tied to isolate a column several times, but it failed in the process on the weak sugary snow below the rain crust. This setup makes me extremely nervous for when we finally get a decent amount of snow.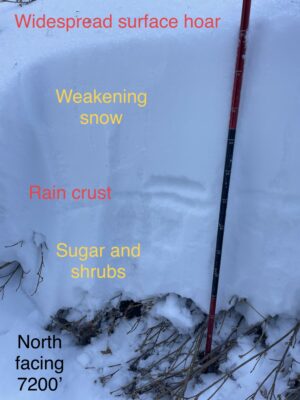 Thin conditions on all aspects kept me out of any steeper terrain. Not much wind affected snow in the areas that were traveled. Cautious travel protocols are prudent.
Close