Close
Basic Information
Observation Date:
November 13, 2022 - November 13, 2022
Submitted:
November 14, 2022
Observer:
Pro
Zone or Region:
Boulder/Jughandle Area
Location:
7,300 West facing
Recent Avalanches?
None Observed
Cracking?
None Experienced
Collapsing?
None Experienced

It is worth noting that there were a few cracks on yesterday's skintrack, indicating some settlement, nothing alarming in my experience, not uncommon.
Stability Rating:
Good
Confidence in Rating:
High
Stability Trend:
Steady

Bottom line is that I am far more concerned about hitting a booby trap in the thin snow than anything else including the facets described below in avalanche problems because I'm not getting on anything steep with the thin snow cover.
I'm concerned about the weakening snow as a future Red Flag. It is also worth noting that many surfaces are covered in surface hoar, potential Red Flag #2. There will most likely be significant hazard after the next storm cycle.

This is a test of the new "Pro Observer" form for the PAC. Great Job!
Advanced Information
Cloud Cover:
Mostly Sunny
Temperature:
Cold
Wind:
Light , NW
Cold day, light winds w/o transport.
Snow surface consisted of weakened, wind affected snow which might have been stiff a few days ago. Snow surface showed signs of wind activity but has broken down over the last few days.
At this point I think the weak snow is a potential future hazard and is a far bigger concern than current conditions.

HS is approx. 22"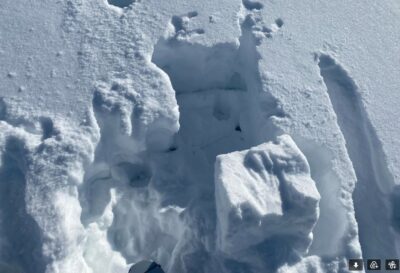 Problem
Location
Distribution
Sensitivity
Size
Wind Slab

Isolated

Specific

Widespread

Unreactive

Stubborn

Reactive

Touchy

D1

D1.5

D2

D2.5

D3

D3.5

D4

D4.5

D5
I would add that most surfaces are covered in surface hoar. I see this as a future red flag.
Skied low angle terrain cautiously due to the thin cover and potential for booby traps.
Close