Close
Basic Information
Observation Date:
October 30, 2023 - October 30, 2023
Submitted:
October 31, 2023
Observer:
Pro
Zone or Region:
Warm Lake area
Location:
Warm Lake Summit
Recent Avalanches?
None Observed
Cracking?
None Experienced
Collapsing?
None Experienced

Faceted snow may represent a future red flag. If there is enough which may not be the case.
Stability Rating:
Very Good
Confidence in Rating:
High
Stability Trend:
Steady

6-8" of snow on the ground in sheltered shady locations. Some of it is very weak where crusts have not formed.
Advanced Information
Cloud Cover:
Clear
Temperature:
cold
Wind:
Calm
Snow in sheltered locations is faceted and weak. Large surface hoar in many places. 6-8" deep with occasionally deeper drifts. Photo below is large, well formed surface hoar at 7,600'.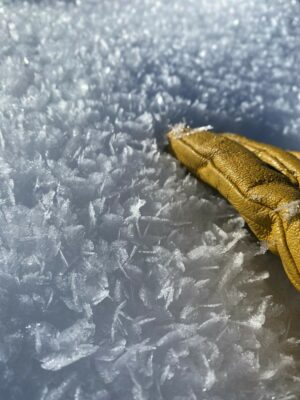 I was on foot and did not bother with skis....
Close